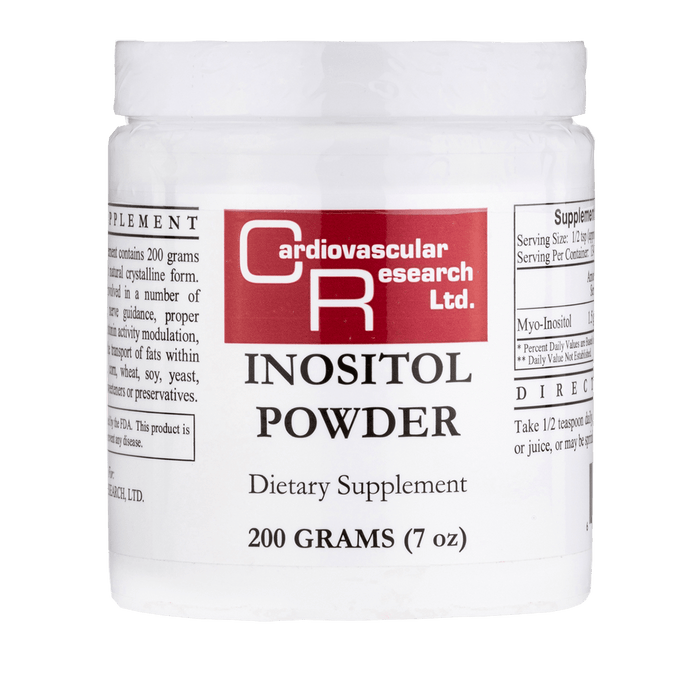 Cardiovascular Research Inositol Powder - 7 oz.
Sale
Sale
Original price
$ 20.00
-
Original price
$ 20.00
Support for Optimal Overall Health
Inositol Powder from Ecological Formulas is a soy-free dietary supplement that could calm your mind and support healthy nerves. This yeast-free product could also stabilize cell membranes and improve your blood glucose metabolism.
Inositol present in this supplement from Ecological Formulas is a compound that occurs in nine forms' the most common form being myo-inositol. Myo-Inositol appears to be a part of structural lipids in the body. Studies suggest that inositol may be involved in various key processes in the body like insulin signal transduction. This is the pathway in which insulin secreted by the pancreas' in response to a meal' binds to receptors and triggers the usage or storage of glucose in the cell.
Inositol might improve levels of serotonin in the brain' thereby calming the mind. It could alleviate nerve pain and promote restful sleep. Inositol might support a heart healthy lifestyle. It may be beneficial in supporting healthy ovarian function. Inositol could also uplift mood and ease anxiety. Improve your mood' relax your mind and sleep well with Inositol Powder from Ecological Formulas.
Inositol is a member of the B-vitamin family, and may benefit your body in numerous ways. It can be gotten from foods like beans, cantaloupe, citrus fruits, whole grain bread, nuts and seeds, but is also available in supplement form for daily use.
Inositol Powder from Cardiovascular Research Ltd. is a powdered dietary supplement that provides Myo-inositol in a completely natural crystalline form to help keep you healthy.
Product Details:
Every serving of half a teaspoon provides 1.5 grams of inositol
Promotes the healthy formation of cell membranes and insulin signal transduction, and helps modulate serotonin activity
May also help maintain healthy cholesterol levels and supports healthier, stronger hair
May help ease constipation as well
This product contains none of the following:
Gluten, corn, wheat, or soy
Yeast, sugar, or starch
Artificial preservatives, colors, or sweeteners


Please see the Supplement Facts tab for a full listing of the Ingredients in this product. In summary, it contains: Myo-Inositol.
Supplement Facts
Recommended Use:
Adults: Take 1/2 teaspoon daily, mixed with water or juice, or may be sprinkled on food.
Warning:
If you are pregnant or nursing, please consult your healthcare professional before using this product. Keep out of the reach of children.
These statements have not been evaluated by the Food and Drug Administration (FDA). These products are not meant to diagnose' treat or cure any disease or medical condition. Please consult your doctor before starting any exercise or nutritional supplement program or before using these or any product during pregnancy or if you have a serious medical condition.