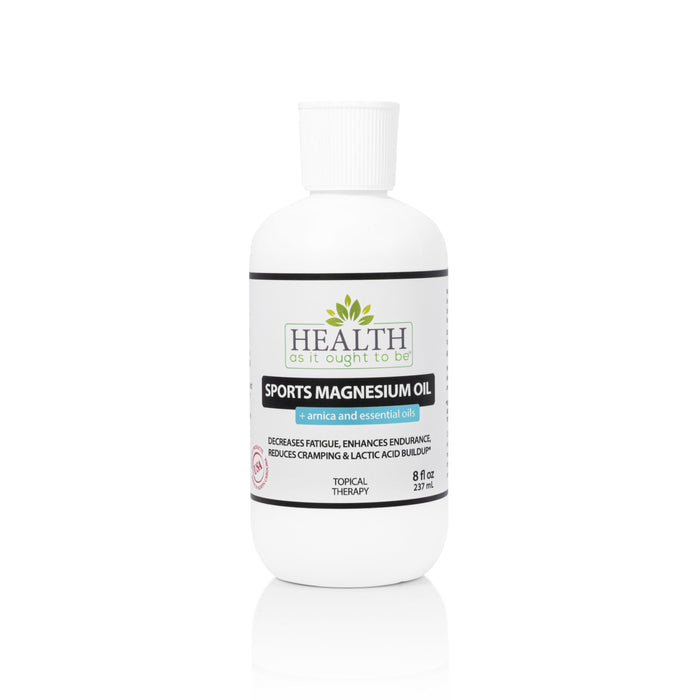 HAIOTB Sports Magnesium Oil + arnica and essential oils - 8 oz. Vegan, Topical
Sale
Sale
Original price
$ 35.99
-
Original price
$ 35.99
All-natural magnesium chloride oil for athletes, brought to you by Health As It Ought To Be.
Sports Magnesium Oil is a positively-charged, ionic mineral solution infused with our proprietary blend of Arnica and essential oils. Designed for athletes and active adults, Sports Magnesium Oil works synergistically with the human body to positively affect energy levels and muscle function for peak performance. Using Sports Magnesium Oil could provide relief from the following*:
Fatigue

Low endurance

Cramping

Acid Build Up

Joint Pains

Muscle cramps
For the athletes that push their bodies to the limits, the sports magnesium oil by Health As It Ought To Be is your saving grace. From achy joints to overworked muscles, sports magnesium oil is the formula that helps you get the most out of your resting time. This positively-charged, ionic mineral solution is infused with a blend that can help your body recover so that it performs at it's full potential. Not only can our topical magnesium help improve your body during recovery time, but it also reduces fatigue and helps build endurance. If you're ready to give your all, add sports magnesium oil to your routine.


Amazon
Articles

Have you ever heard of arnica? The vast majority of Americans have not. Those who have know that this is one of the most desirable alternatives to pain-meds, or topical analgesics (think Ben Gay or Tiger Balm)...
The holidays aren't supposed to be a stressful time, but they certainly can be. We know what it's like, school plays for parents with kids in elementary school, work parties that last late, shopping, and more shopping, and trying to simply fit all the good times in before the clock strikes midnight on the 31st of December...
Spring is here. With spring comes warm weather. And with warm weather comes a newness to life that didn't exist in the winter. With that warm weather there's also the propensity to start participating in all kinds of springtime activities that didn't receive attention in the winter. From pounding the pavement to get back in "running shape" to bending over pulling weeds by hand now that the weather has turned.
If you have 27 minutes a day to spare (and after you see this article I think you're going to make the extra time)... Then you have at your disposal one of the best mechanisms for improving your immune system of all time. I'm referring to exercise...
When my patients want to know what I recommend as one of the top ways to experience Health As It Ought To Be, I always tell them to exercise.Some of them are relieved to hear this because they're already working out...
I want to help you slow down the aging process. The reason why I want to help in this pursuit is because you're going to die. As much as it stinks to hear, death is a natural, inevitable part of life. And while everyone will one day die, not everyone who dies...
Label Information

Directions:
Apply to the skin that you want to see results on. For best results, use our sports magnesium oil daily.
Warning: for topical use only. Do not ingest. Avoid direct contact with eyes and other sensitive areas. Keep out of reach of children.
Ingredients:
Magnesium Oil

2,108 mg of elemental magnesium chloridd per ounce

Water

Saponins

Aloe Vera Juice

Arnica

Essential Oils 

Peppermint

Spearmint

Eucalyptus

Clove

Lemon

Cinnamon

Rosemary

Frankincense

Myrrh
MADE IN THE USA
Alcohol-free, aluminum-free, artificial fragrance-free, paraben-free
All-Natural, Vegan Friendly, Cruelty-Free
Store in a cool, dry place.
Do not ingest.
*  This product contains no alcohol, aluminum, artificial fragrances or preservatives
** This product is not intended to diagnose, treat, cure or prevent disease. Do not ingest.