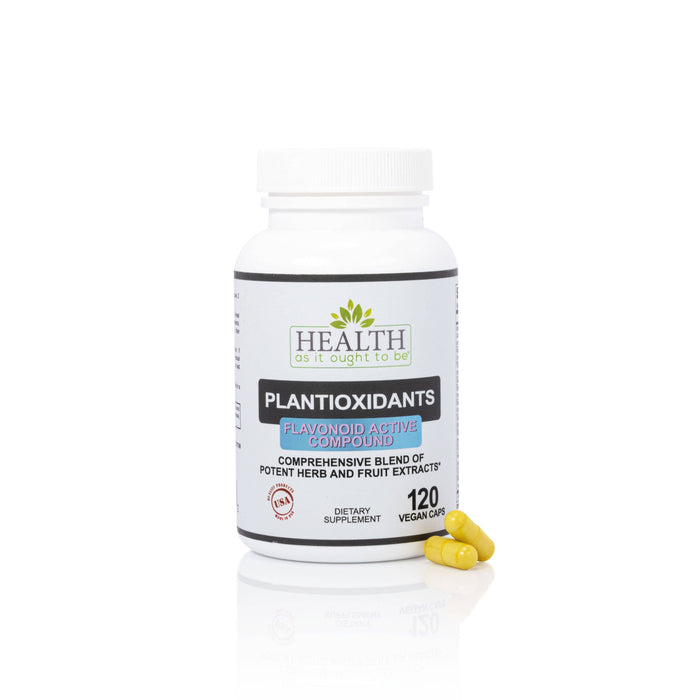 HAIOTB Plantioxidants - 120 Vegan Capsules
Sale
Sale
Original price
$ 50.99
-
Original price
$ 50.99
NOW BUY 1 GET 1 FREE 
In order to get this free bottle(s) you will have to add at least 2 Plantioxidants to your cart. If you add 4 to your cart, you will get 2 free. If you only add 1 to your cart there is no free bottle in your order. If you add 3 to your cart you will only get 1 free bottle. It must be in multiples of 2. 
The expiration date on these bottles shows best used by April 2024
Flavonoid Active Compound - Comprehensive Blend of Potent Herb and Fruit Extracts

Phytonutrients, a unique class of nutrients that are remarkable at boosting your overall health. 
fight free radicals via antioxidant power

boost your immune system, guarding your cells from environmental pollutants

help reduce inflammation, when necessary
All phytonutrients are plant-based. When it comes to fruits and vegetables, different colors represent different phytonutrient activity. See below for Dr. Wiggy's personal recommendations for phytonutrient intake:


Recommendations: From Dr. Wiggy's recent article on this product: "Everything you see in the list below is something I've spent a painstaking amount of time researching. And in my opinion, they're among the best sources of health-boosting phytonutrients you could take. Let food be thy medicine and medicine be thy food as Hippocrates said." 
Please see the Supplement Facts tab for a full listing of the Ingredients in this product. In summary, it contains: Green Tea Extract (Leaf) (min. 40% Catechins) (up to 16 mg of naturally occurring caffeine), Milk Thistle Extract (Seed) (min. 80% Silymarin), Turmeric Root Extract (min. 95% Curcuminoids), Quercetin (from Quercdin Dihydrate), Bromelain (2400 GDU/g)(from Pineapple), Rosemary (Rosmarinus offcinalis) (Leaf), Grape Seed Extract (Standardized for polyphenols), Ginkgo Biloba Extract (Leaf) (min. 24% Ginkgofiavonglycosides), Ginger Root (Zingiber offcinale), Hawthorn Extract (Crataegus oxyacantha)(Leaf & Flower), Cranberry Powder, Bilberry Extract (Vaccinium myrtillus) (Fruit)
| | |
| --- | --- |
| | Green Tea Extract: Shown to help protect the brain and heart, known to improve liver function, can help regulate metabolism, can improve skin tone and more. |
| | Milk Thistle Extract: A wonderful tonic that can help support natural detoxification processes. |
| | Turmeric Root: Turmeric is phytonutrient royalty. It's been shown to improve heart health, fight inflammation, support the immune system, may improve memory (and cognition) and much more. |
| | Quercetin: Comes from the skin of many fruits (where most phytonutrients live). I've written about it before, but it helps to fight inflammation better than most anything on the planet. |
| | Bromelain: Typically derived from pineapple, bromelain does a few things. One of the main reasons to take it is because it fights inflammation. It's also great at helping your body digest food so you can absorb nutrients better.  |
| | Rosemary: Not only is it a tasty herb, rosemary is one of the most powerful herbs around. It's antiseptic (fights bacteria), can boost immune health, helps improve heart health, aids digestion and more! |
| | Grape Seed Extract: Most people see grape seed extract in ingredients, but don't know what it does. The reason I take it is because it's great for heart health, it has a therapeutic effect on the immune system, improves brain function and protects your cells from oxidative stress. |
| | Gingko Biloba: May improve cognition, helps to relieve symptoms of PMS, may help to restore vision, and can relieve headaches. |
| | Ginger Root: Another royal plant. Ginger helps with inflammation, gut health, brain health, boosts immunity, and helps ease joint pain. |
| | Hawthorn Extract: "Hawthorn berry is best known for its helpful toning effects on the heart. As a "cardiotonic herb," hawthorn has shown itself to be impressively helpful for all kinds of serious heart concerns." |
| | Cranberry Powder: Everyone knows about cranberry and UTIs. And there is some evidence it helps to relieve UTIs. But it also can improve brain function, help fight inflammation, increase cardiovascular function and fight off oxidative stress |
| | Bilberry Extract: This extract is a huge benefactor for the body's natural response against inflammation and can help fight off of free radicals. It also has been shown to increase blood sugar control as well as helping to protect heart health. |






Articles

Could you imagine how gross it would be to chew on the root of a tree for an hour?Or, how nasty it may be to take a wadded up bunch of leaves and grind them into a powder and stick them behind your lip like a tobacco chewer does? All we can say is "YUCK!" That's because even though plants carry all kinds of helpful nutrients inside of them, they also are filled with chemicals that taste terrible and in many instances, can harm you...
As we write this article, the holidays are upon us. It's that time of year where you're about to assault your body with a little bit of extra sugar, stress, and late nights. All of those factors could induce some inflammation in your body, as well as introduce you to extra free radicals...
In my article today I'm going to share with you all the reasons that the Plantoxidant supplement is great for helping to support your total health...
In just a second I'm going to show you 3 incredibly powerful (and common) food extracts you can start taking today to keep you in great health. But before I show you these extracts I need to ask you a question. Ever heard the expression "let food be thy medicine, and medicine be thy food"? I'm sure you have. If you've been reading my articles for any amount of time I know you've seen me write that line before...
Supplement Facts
OTHER INGREDIENTS: Microcrystalline Cellulose (capsule), Rice Flour, Magnesium Stearate (vegetable source), and Silica.

Suggested Use: As a dietary supplement take two (2) capsules 1 to 2 times daily with food or as recommended by your healthcare practitioner.
Allergen Information: Not manufactured with Soy, Wheat, Gluten, Milk, Egg,  Fish, Shellfish or Tree Nut Ingredients. Produced in a GMP facility that processes other ingredients containing these allergens.
Caution: For adults only. Please consult with your healthcare provider if you are pregnant/nursing have a known medical condition, or are taking any medications before taking this dietary supplement. Do not purchase if outer seal is broken or damaged. Do not eat freshness packet. Keep in bottle.
Natural color variation may occur in this product. Keep in bottle. Please Recycle.
KEEP OUT OF REACH OF CHILDREN.
Store tightly closed in a cool, dry place after opening.
MADE IN THE USA
*These statements have not been evaluated by the Food and Drug Administration. This product is not intended to diagnose, treat, cure or prevent disease.