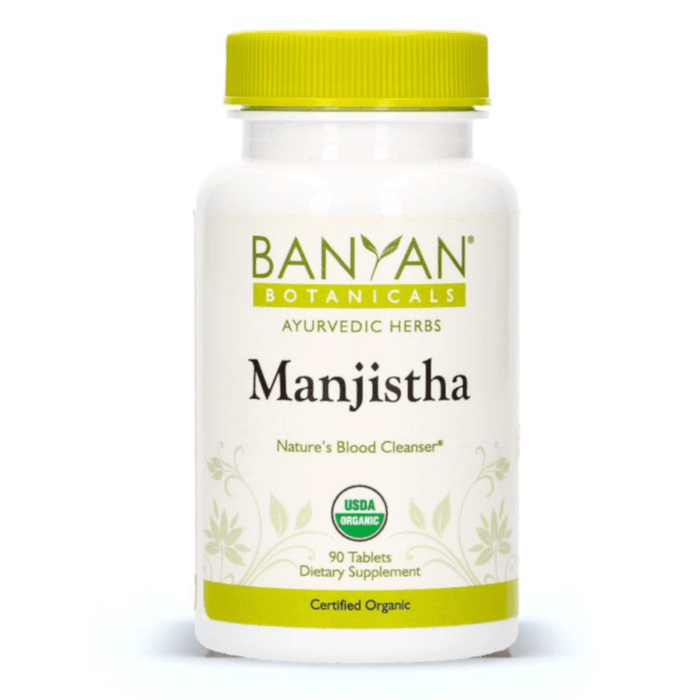 Banyan Botanicals Manjistha - 90 Tablets
Sale
Sale
Original price
$ 22.99
-
Original price
$ 22.99
Nature's Blood Cleanser*
Removes natural toxins and excess heat from the blood*
Supports healthy skin and a clear complexion*
Supports proper function of the liver and kidneys*
Excellent for reducing pitta and kapha*
Maintains clear channels in the body, supporting the healthy flow of blood and urine*
Manjistha is the quintessential blood purifier in the Ayurvedic pharmacopoeia. It removes excess heat and natural toxins from the blood helping to support healthy skin and a clear complexion. It is one of the best pitta-pacifying herbs and is used to support the proper function of the liver and kidneys. Manjistha is also excellent for reducing excess kapha. It helps to maintain clear channels in the body by supporting the healthy flow of blood and urine.*
Ayurvedic Energetics:
Rasa (taste): bitter, sweet, astringent
Virya (action): cooling
Vipaka (post-digestive effect): pungent
Doshas (constitutions): Balancing for all doshas, may aggravate vata in excess
Common Usage:
Used for cleansing the blood and supporting the proper function of the liver and kidneys.*
Possible Contraindications:
None known.
 
Please see the Supplement Facts tab for a full listing of the Ingredients in this product. In summary, it contains: Indian Madder root (Manjistha) (Rubia cordifolia+).


Supplement Facts
+Certified Organic
Other ingredients, from natural sources: organic gum acacia, organic maltodextrin, organic rice flour. Free of gluten, soy and dairy. 100% vegetarian.
This item contains no animal products and is suitable for vegetarians and vegans.
Suggested Use:
1–2 tablets, once or twice daily, or as directed by your health practitioner.
Please consult with your health care practitioner prior to the use of this product if you are pregnant or nursing, taking medications, or have a medical condition. Keep out of the reach of children.
California Customers: WARNING
*These statements have not been evaluated by the Food and Drug Administration. Banyan Botanicals products are not intended to diagnose, treat, cure, or prevent any disease. The information on this website is for educational purposes only and is not a substitute for medical advice, diagnosis or treatment. For more information pertaining to your personal needs please see a qualified health practitioner.