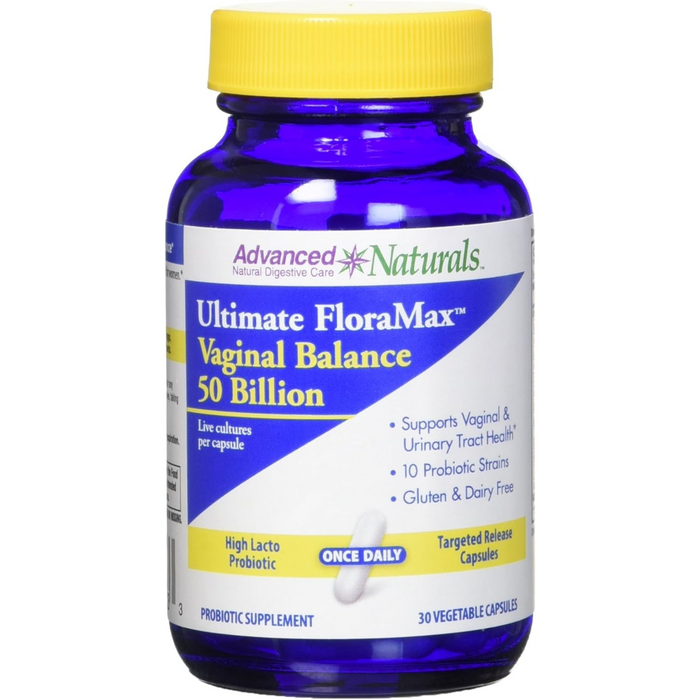 Advanced Naturals Ultimate FloraMax Vaginal Balance 50 Billion - 30 Capsules
Sale
Sale
Original price
$ 40.00
-
Original price
$ 40.00
Ultimate FloraMax Vaginal Balance 50 Billion is formulated to help maintain a healthy balance of vaginal and urinary tract flora.* It contains 45 billion live Lactobacillus cultures and 5 billion live Bifidobacteria, mirroring the prevalence of Lactobacilli and lesser numbers of Bifidobacteria in the vagina.
High Lacto For Women's Needs
The 10 strains in Ultimate FloraMax Vaginal Balance were chosen for their prevalence in the healthy vagina and urinary tract. The urogenital system (consisting of the urinary tract and vagina) is second only to the colon in the number of bacterial residents. The healthy vaginal flora consists primarily of the Lactobacillus species and a smaller amount of Bifidobacteria. The vaginal flora produces lactic acids to help prevent the growth of harmful bacteria and yeast that can lead to yeast infections and urinary health issues*.
Please see the Supplement Facts tab for a full listing of the Ingredients in this product. In summary, it contains: Ultimate FloraMax Vaginal Balance (Lactobacillus acidophilus, Lactobacillus rhamnosus, Lactobacillus plantarum, Lactobacillus gasseri, Lactobacillus casei, Lactobacillus paracasei, Lactobacillus salivarius, Lactobacillus brevis), Lacto Probiotic Cultures (Bifidobacterium lactis, Bifidobacterium longum), Bifido Probiotic Cultures, Bifido/Lacto Cultures.
Supplement Facts
Directions: For best results, take 1 capsule daily, with or without food.