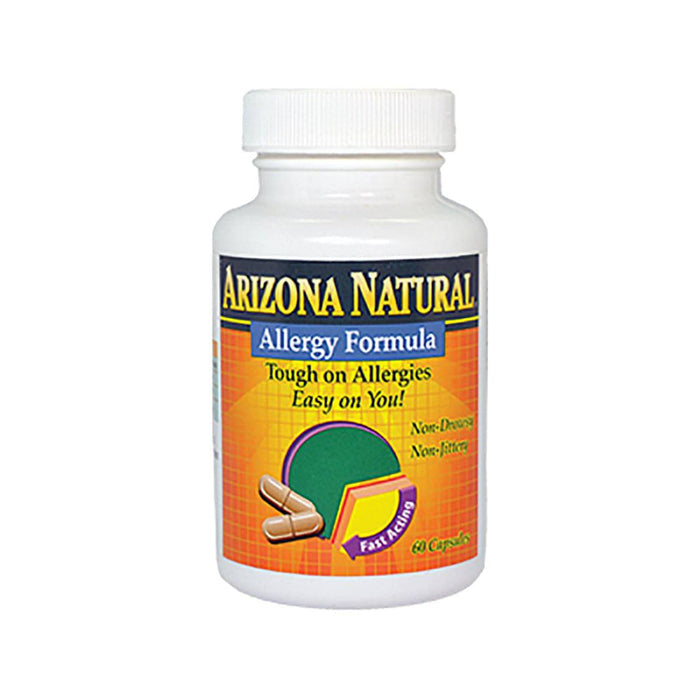 Arizona Natural Allergy Formula - 60 Capsules
Sale
Sale
Original price
$ 20.00
-
Original price
$ 20.00
For the temporary relief of sneezing, runny nose, nasal and sinus congestion, sinus pain and pressure, and itchy, watery eyes associated with allergies and sinusitis.
This effective combination of Traditional Chinese Medicines, Vitamin C, and Quercetin is tough on allergies and easy on you.  Arizona Natural Allergy Formula is a Non-Drowsy, Non-Jittery formula that can provide relief from the symptoms resulting from common allergies. Contains no caffeine, antihistamines or pseudo-ephedrine.

Please see the Supplement Facts tab for a full listing of the Ingredients in this product. In summary, it contains: Vitamin C (as Ascorbic Acid), Proprietary Blend (Angelica Dahuricae, Astragalus, Citrus Bioflavanoids, Ganoderma, Itex, Isatis, Ligusticum, Magnolia Flower, Moutan, Pueraria, Quercitin, Xanthii).



Supplement Facts