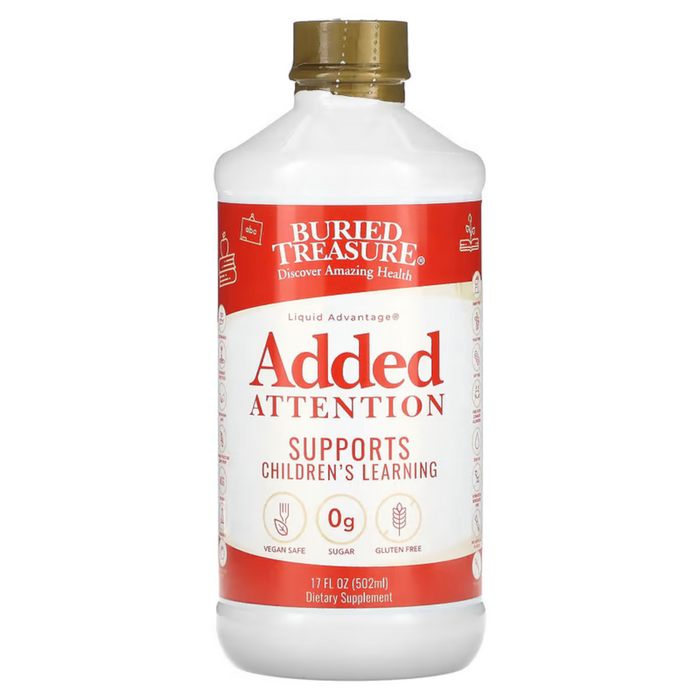 Buried Treasure Added Attention - 16 fl oz.
Sale
Sale
Original price
$ 33.00
-
Original price
$ 33.00
Buried Treasure's Added Attention is formulated with the highest quality ingredients to support a child's ability to focus. Highly active children may have special dietary needs for B Vitamins, DHA, DMAE and trace minerals; all provided by Added Attention. Children prefer this good tasting liquid to pills or capsules.

Please see the Supplement Facts tab for a full listing of the Ingredients in this product. In summary, it contains: Vitamin B-1 (as thiamin), Vitamin B-2 (as riboflavin), Vitamin B-3 (as niacinamide), Vitamin B-6 (as pyridoxine HCl), Chromium, Endomembrane Lipid Complex: Phosphatidylserine (PS), Phosphatidylcholine (PC), Phosphatidylethanolamine, Phosphatidylinositol, DHA Omega 3 blend (docosahexaenoic acid), Grape Seed Extract (95% OPC), DMAE (2-dimethylaminoethanol), GABA (gamma-aminobutyric acid), Ionic Trace Minerals, Lemon Balm (melissa officinalis), Gotu Kola (centella asiatica), Chamomile Flower (matricaria).
Supplement Facts
Recommended Use: Shake well before each use. As a dietary supplement, take two tablespoons 1-2 times daily, preferably with meals. May be taken undiluted or mixed with your favorite beverages (for ages 4 years and older).
Warnings: Keep out of the reach of children. Refrigerate after opening.