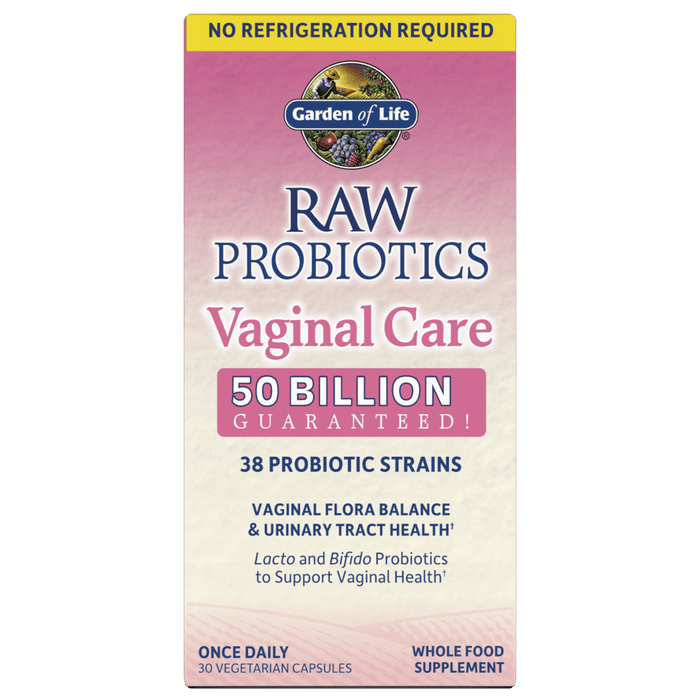 Garden of Life RAW Probiotics Vaginal Care, Shelf-Stable - 30 Capsules
Sold out
Original price
$ 47.99
-
Original price
$ 47.99
Raw Probiotics Vaginal Care
Raw Probiotics is a unique line of high-potency, Raw, whole food probiotics that are age- and gender-specific. Unlike isolated strains of probiotics, Raw Probiotics offers all the benefits of a true "food" probiotic with a record-setting 30+ probiotic strains. So, it's not just isolated bacteria in a pill; Raw Probiotics is a whole-food probiotic that emulates eating fermented food. Made with mainly Bulgarian yogurt concentrate, Wild European kefir grains and scobies, and concentrated clinically studied probiotics strains, Raw Probiotics is created below 40º F and 30% humidity so that what you see on the label is what you get in the bottle.
Raw Probiotics Vaginal Care promotes yeast balance, vaginal and urinary tract health.† Maintaining a healthy bacterial balance promotes vaginal and urinary tract health.† Garden of Life® RAW Probiotics Vaginal Care is a high-potency, Raw, whole food probiotic formula containing a proprietary Vaginal Care Blend featuring eight probiotic strains providing meaningful vaginal and urinary tract health support.† Raw means our probiotics are uncooked, untreated, unadulterated, with no binders or fillers and no carriers.
Raw Probiotics Vaginal Care Benefits
Is a once-daily serving—in one small, easy-to-swallow capsule
Has 38 Raw probiotic strains promoting flora diversity as found in nature
Features proprietary Vaginal Care Blend to promote yeast balance, vaginal and urinary tract health†
Provides a unique Yeast-Digesting Enzyme Blend to help break down yeast cell walls†
No binders, fillers or carriers
Non-GMO Project Verified & NSF Certified Gluten Free
Raw Probiotics Vaginal Care—a high-potency, Raw, whole food ultimate probiotic with Vaginal Care Blend to promote yeast balance, vaginal and urinary tract health.

Please see the Supplement Facts tab for a full listing of the Ingredients in this product. In summary, it contains: Vaginal Care Blend (ISS Bif Bifidobacterium lactis (SD-5219), Lactobacillus acidophilus (SD-5212), Lactobacillus reuteri (SD-1357), Lactobacillus rhamnosus (SD-5217), Lactobacillus fermentum (SD-2468), Lactobacillus paracasei (SD-5218), Lactobacillus salivarius (SD-5208), Lactobacillus gasseri (SD-5685), Raw Whole Food Probiotic Blend: (Bulgarian Yogurt (milk) Concentrate), Eastern European Wild Kefir Culture (containing Bifidobacterium lactis, Bifidobacterium longum, Lactobacillus acidophilus, Lactobacillus brevis, Lactobacillus bulgaricus, Lactobacillus casei, Lactobacillus fermentum, Lactobacillus helveticus, Lactobacillus kefironofociens,
Lactobacillus kefirgranum, Lactobacillus rhamnosus, Lactococcus lactis, Lactococcus cremoris, Streptococcus thermophilus, Lactobacillus kefir, Lactobacillus parakefir, Lactobacillus plantarum, Lactococcus lactis biovar diacetylactis, Leuconostoc lactis, Leuconostoc mesenteroides, Leuconostoc cremoris, Leuconostoc dextranicum, Kluyveromyces marxianus, Brettanomyces anomolus, Deboryomyces hansenii, Saccharomyces unisporus, Saccharomyces turicensis, Saccharomyces cerevisiae, Saccharomyces exiguus, Torulosporo delbrueckii), Vaginal Yeast-Digesting Enzyme Blend (Cellulase, Hemicellulase, Lysozyme), Eastern European Raw Fruit & Veggie Blend (Red Bell Pepper (Fruit), Green Pea (Seed), Carrot (Root), Plum (Fruit), Cherry (Fruit), Strawberry (Fruit), Raspberry (Fruit)).
Supplement Facts
Suggested Use:
Adults take 1 capsule daily. May be taken with or without food. Capsules can be opened. Contents can be taken directly with water or raw juices. Not inteded for children.