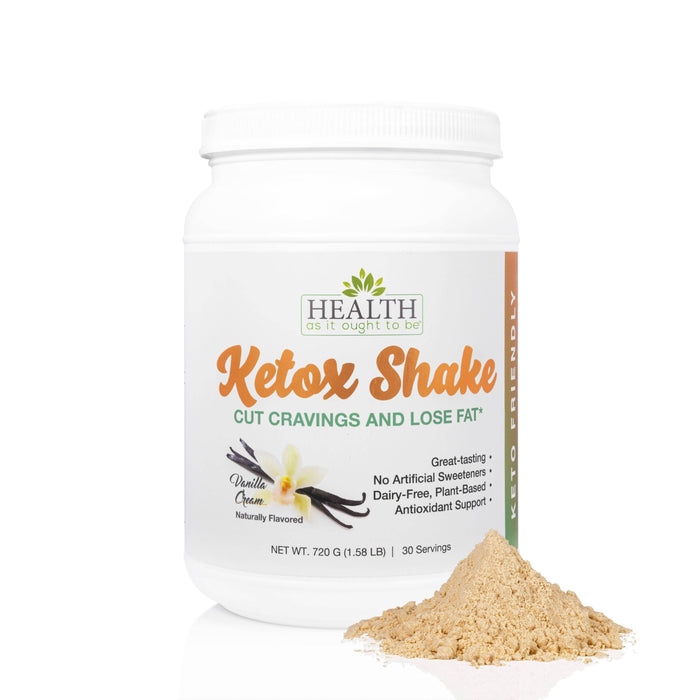 HAIOTB Ketox Shake: Ketogenic Protein Powder 30 Servings Vanilla Cream
Sale
Sale
Original price
$ 78.99
-
Original price
$ 78.99
NOW BUY 1 GET 1 FREE 
In order to get this free bottle(s) you will have to add at least 2 Ketox Shakes to your cart. If you add 4 to your cart, you will get 2 free. If you only add 1 to your cart there is no free shake in your order. If you add 3 to your cart you will only get 1 free shake. It must be in multiples of 2.
The expiration date on these bottles shows best used by February 2024
Ketox Shake 
Cut Cravings and Lose Fat
Dr. Wiggy's Coffee Recipe
Coffee of choice 
1 scoop of Ketox Shake

 

 
1 tbsp of Brain Octane or grass-fed butter, optional 
Blend and enjoy.
Our Ketox Shake is:
Great Vanilla Taste
No artificial sweeteners.  Naturally Flavored.
sweetened with Stevia and Monk Fruit
dairy-free, plant-based
Antioxidant support
30 servings
Health As It Ought To Be's Ketox Shake is a Keto-Friendly shake that is designed to control cravings.
It has the appropriate ratio of fat, protein and carbs to optimize fat loss.
It has a wonderful, creamy vanilla flavor that you will love!
The Vegan Protein source is Non-GMO Pea Isolate, Non-GMO Brown Rice and Quinoa
The Non-GMO Antioxidant Blend contains the following fruits:  
Acai Berry
Acerola
Amia
Jabuticaba
Cranberry
Goji
Mangosteen
Maqui Berry
Pomegranate
Strawberry
Schisandra
  
Please see the Supplement Facts tab for a full listing of the Ingredients in this product. In summary, it contains:
Keto Blend: Palm Oil Powder, MCT Oil Powder (Medium Chain Triglycerides)
Vegan Keto Protein Blend: Pea Protein Isolate, Brown Rice Protein, Quinoa.
Antioxidant Blend: (Acai Berry, Acerola, Amla, Jabiltlcaba, Cranberry, Goji, Manqosteen, Maqui Berry, Pomegranate. Strawberry, Organic Schisandra).

Articles



The simple truth is this: to experience health as it ought to be, you need to be at the proper weight. For every 10 pounds overweight you are, the higher your risks are for all kinds of diseases. Simply put, the diseases of Western civilization are almost entirely preventable if you maintain a healthy weight...and to put it more simply: obesity is a killer...
If you're a person who's concerned about your health, and eating well, then you know that the ketogenic diet is probably something you ought to try. If you're on the fence about the ketogenic diet… Or, if you're already on the ketogenic diet you ought to see this...
By losing weight and carrying less fat you actually improve a number of factors related to perfect health. So what exactly is improved by losing weight? That's an easy question to answer. Lose weight and it could easily improve brain performance, cardiovascular health, blood sugar levels, joint health, hormone balance, sexual function, and much more...
Here's a truth about the ketogenic diet: it absolutely raises cholesterol. No ifs, ands or buts. That being said, you don't necessarily need to worry about the rise in cholesterol. I'll explain why in just a moment.  Before I explain why you don't necessarily have to worry about the rise in cholesterol, let's take a moment and talk about cholesterol, an often misunderstood and unfairly demonized nutrient. You see, people tend to believe cholesterol is dangerous...
The chances you've read an article from me about the Ketox Shake (formerly the Satiate Shake) are pretty high. The reasons why are pretty easy to explain. Over the course of the past 5 years, Dr. Lantelme and I, along with the other practitioners at Robinhood Integrative Practice have realized that when it comes to helping maintain optimal health, some variation of the ketogenic diet is necessary.
Want to lose weight?Then it's a great idea to speed up your metabolism.When your metabolic function is increased it means you burn more calories, and the more calories you burn, the better your chances are of losing weight.Let me qualify that statement.  If you speed up your metabolism and don't also add extra calories to your diet, then you improve your chances of losing weight...
Something a lot of people don't want to hear is how diseases they end up developing are entirely their fault.No one wants to show up in a doctor's office and hear, "I'm sorry to tell you this ma'am, but you have such and such a disease and the reason you have it is because for 30 years you ignored the truth about X."And yet, more than 1,000 women will find out today they've developed a deadly heart condition, in large part because of something they didn't do...




One of the things I'm seen for frequently is weight loss.  As many of you know, I'm not a weight loss expert. I'm not a fitness coach or a dietitian either. Nor do I put myself out there and claim that I'm a physician focused exclusively on this aspect of health. However, with 75 out of 100 Americans carrying around extra weight it's inevitable that I'm going to hear patients ask me about the best ways to lose weight. And considering how important it is for your total health to not be overweight, I actually do spend a fair amount of time researching medically sound ways to facilitate proper weight management for my patients. When it comes to weight loss one...
Keto, short for ketogenic, is the newest diet craze to sweep the nation. If you've been in my office or read my emails lately you know I'm all aboard the keto train.To be honest, when it comes to diets I don't view the ketogenic diet like a traditional weight-loss diet.And that's because the ketogenic diet doesn't require you to starve yourself to lose weight…
Look, just because you're eating more fat than you're used to that doesn't mean you're in ketosis. Most people's fat intake never reaches near the 75% range. In fact, I'd be willing to bet most people who attempt the ketogenic diet never consume more than 55-60% of their calories in fat...
Supplement Facts


Other Ingredients: Non-GMO Natural Flavors, Luo Han Guo (Monk Fruit), Stevia

Directions: Enjoy our KETOX SHAKE as a meal replacement up to 2 times per day. Mix 1 scoop with 8-12 ounces of water, milk or milk substitute. Shake well or blend into a smoothie.

MADE IN THE USA
*These statements have not been evaluated by the Food and Drug Administration. This product is not intended to diagnose, treat, cure or prevent any disease.