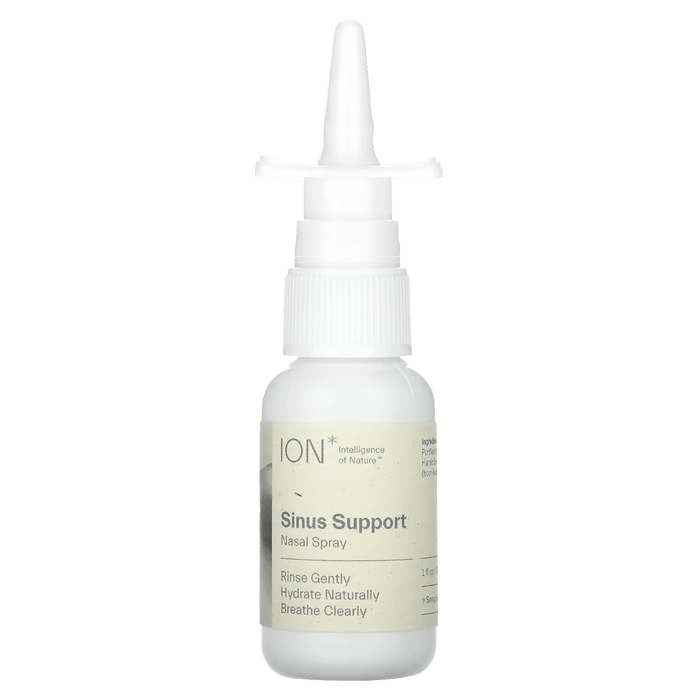 ION Sinus Support Nasal Spray - 1 fl oz.
Sale
Sale
Original price
$ 16.00
-
Original price
$ 16.00
ION* Sinus Support is a non-habit forming and all natural nasal spray, facilitating the innate connection between you and your microbiome. This helps to soothe and protect your nasal passages while also allowing you to breathe clearly and maintain natural hydration.
ION* Sinus Support seals cells in the nasal lining (the technical start of your "gut"), helping to keep toxins out of your body and strengthening the terrain upon which your microbiome can diversify.
Terrahydrite®
Terrahydrite®, the innovative blend used across the entire ION* line, contains two simple ingredients: humic extract and purified water. The ancient soil from which we extract is rich in bacterial metabolites (not bacteria), which are the byproducts of bacterial digestion. These metabolites combine with trace minerals to create fulvate, a family of molecules that is at the heart of our science.
Instead of supplementing a diet with missing vitamins or minerals, fulvate acts more like a signal booster, helping your cells to communicate with each other and bacteria. But these metabolites are multifunctional. Beyond communication, they also carry essential minerals and nutrient into cells that need them. And once in the cell, they can chelate (bind to) waste products and remove them. The vast and varied mechanisms of fulvate work together to naturally facilitate health at the literal foundation: the cell.
Supplement Facts
Other ingredients
Purified water, humic extract (from ancient soil).
Usage Instructions

Insert nozzle of ION* Sinus Support into each nostril and pump 2−3 times. Remember to wipe nozzle clean after each use.
Sensitive Adult Usage: 
For ION* Sinus Support, simply reduce to 1 pump per nostril and increase as tolerated.