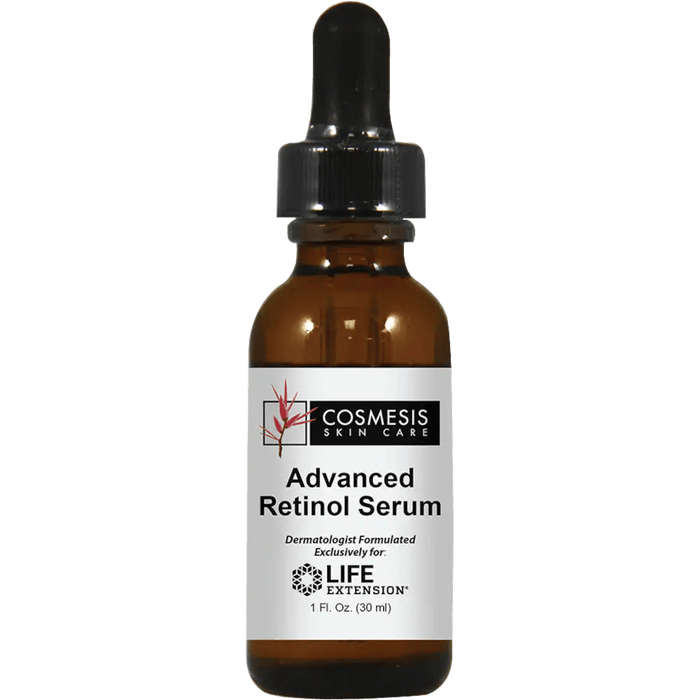 Life Extension Advanced Retinol Serum - 1 fl oz.
Sale
Sale
Original price
$ 38.00
-
Original price
$ 38.00
Three innovative vitamin A compounds reduce the appearance of fine lines and wrinkles, balance skin pigmentation and encourage more vibrant, youthful-looking skin.
Advanced Retinol Serum Benefits
Helps brighten, rejuvenate, and revitalize skin cells
Uses innovative vitamin A to promote collagen production and reduce the appearance of fine lines and wrinkles
Helps maintain even skin pigmentation and color
Your skin naturally ages over time.1,2 The outer layer of your skin becomes thinner, which weakens its abilities as a natural barrier. This leads to moisture loss and leaves your skin vulnerable to the effects of the environment around you.3,4 But there are things you can do to revitalize your skin.
Retinol, retinyl palmitate and hydroxypinacolone retinoate are all derivatives of skin-healthy vitamin A. Known as retinoids, these compounds encourage skin rejuvenation, lock in moisture, promote the production of collagen and revitalize younger, healthy-looking skin.
Retinol enhances skin renewal
When topically applied, retinol helps boost the thickness of your epidermis (the outer layer of skin). This strengthens your skin's barrier functions and helps keep it smooth, hydrated and healthy. Retinoids also stimulate the synthesis of collagen, elastin and fibronectin—key proteins that make up the structure of your skin.
Clinical studies
One randomized, double-blinded clinical trial showed that compared to a placebo, topical retinol significantly reduces the appearance fine lines and wrinkles and helps maintain balanced skin pigmentation and texture.5
A second controlled clinical trial found that topical retinol significantly increased collagen and water-binding hyaluronic acid, which leads to more hydrated, smooth and rejuvenated skin.6
Hydroxypinacolone retinoate
One of the three retinoid compounds in this formula is hydroxypinacolone retinoate. This vitamin A derivative binds directly to retinoid receptors on skin cells, which translates to a more immediate benefit for your skin.
In one study, a topical formulation of hydroxypinacolone retinoate improved epidermal thickness by 26.3%, while significantly increasing collagen, elastin and fibronectin production—vital components of healthy skin rejuvenation.7 In another study, topical use of this retinoid showed a reduced appearance of fine lines and wrinkles after 14 days—without skin irritation!8
Lipid-based delivery system
Most topical products use a conventional delivery system that releases retinol all at once in the skin. But Advanced Retinol Serum features a new delivery system that encapsulates retinol in a lipid-soluble structure, allowing for gradual release. This makes it easier for retinol to be absorbed by your skin.
Supplement Facts
Ingredients
purified water, glycerin, butylene glycol, retinyl palmitate, retinol, hydroxypinacolone retinoate, sodium hyaluronate, tocopherol, ceramide NP, trideceth-6 phosphate, cyclopentasiloxane, cetearyl isononanoate, sodium polyacrylate, ceteareth-20, cetearyl alcohol, dimethicone, glyceryl stearate, cetyl palmitate, benzoic acid, ceteareth-12, sodium PCA, dimethyl isosorbide, caprylic/capric triglyceride, polysorbate 20, laureth-23, triethanolamine, ethylhexylglycerin, disodium EDTA, phenoxyethanol.
Directions
Apply a thin layer to your clean face twice weekly using fingertips in a circular motion until fully absorbed. Increase to nightly usage permitting skin tolerability. Make sure to apply SPF daily and limit sun exposure while using this product.

Caution
Keep out of reach of children. For external use only. Avoid contact with eyes. If product contacts eyes, rinse thoroughly. If rash or irritation occurs, discontinue use.