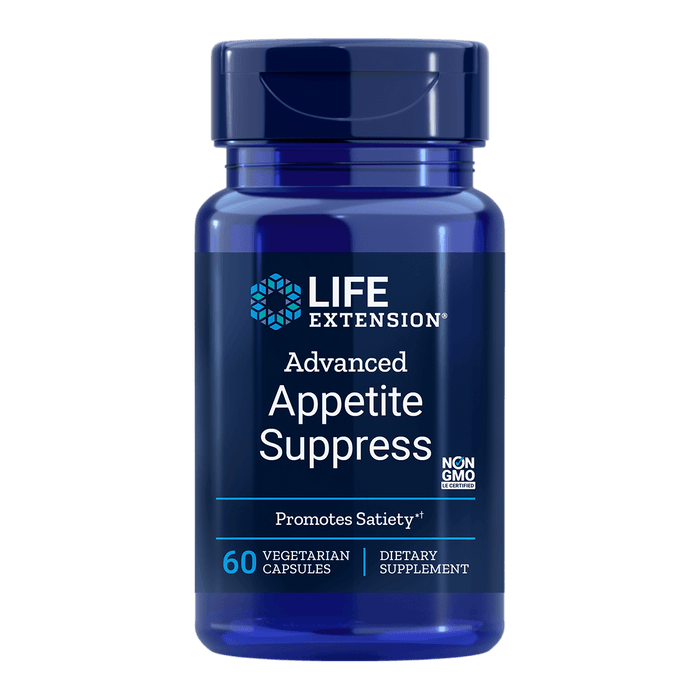 Life Extension Appetite Suppress (previously Natural Appetite Suppress) - 60 Vegetarian Capsules
Sale
Sale
Original price
$ 30.00
-
Original price
$ 30.00
Helps tame hunger with a unique kidney bean extract*
Did you know that hunger and satiety are controlled by hormones? Advanced Appetite Suppress helps you resist the urge to snack with a European white kidney bean extract that helps support normal levels of gut hormones that control appetite and satiety. This extract also affects the alpha-amylase enzyme, helping to support already-healthy blood sugar levels.
Advanced Appetite Suppress provides a potent dose of a novel Italian Borlotto variety bean extract. Studies show this proprietary extract helps modulate levels of stomach hormones ghrelin, cholecystokinin (CCK), glucagon-like peptide-1 (GLP1), and peptide YY (PYY). Ghrelin produces feelings of hunger, while the CCK, GLP1, and PYY produce feelings of food satisfaction and fullness. The result is reduced desire for food and less food intake.
The white kidney bean extract in Advanced Appetite Suppress also modulates alpha-amylase, the enzyme that converts dietary starch into simple sugars. This can affect the rate at which free sugars are absorbed from the digestive tract into the bloodstream.
A crucial component of a healthy weight loss program is reducing portion size and the quantity of ingested calories — but you don't have to do it alone. Make Advanced Appetite Suppress a part of your healthy weight loss regimen today!
This supplement should be taken in conjunction with a healthy diet and regular exercise program. Individual results are not guaranteed, and results may vary.
Non-GMO
1 - Beanblock® is a registered trademark of Indena S.p.A., Italy.


Please see the Supplement Facts tab for a full listing of the Ingredients in this product. In summary, it contains: European (Italian Borlotto variety) white kidney (common bean) extract.
Warnings
KEEP OUT OF REACH OF CHILDREN
DO NOT EXCEED RECOMMENDED DOSE
Do not purchase if outer seal is broken or damaged.
When using nutritional supplements, please consult with your physician if you are undergoing treatment for a medical condition or if you are pregnant or lactating.
*These statements have not been evaluated by the Food and Drug Administration. These products are not intended to diagnose, treat, cure, or prevent any disease.