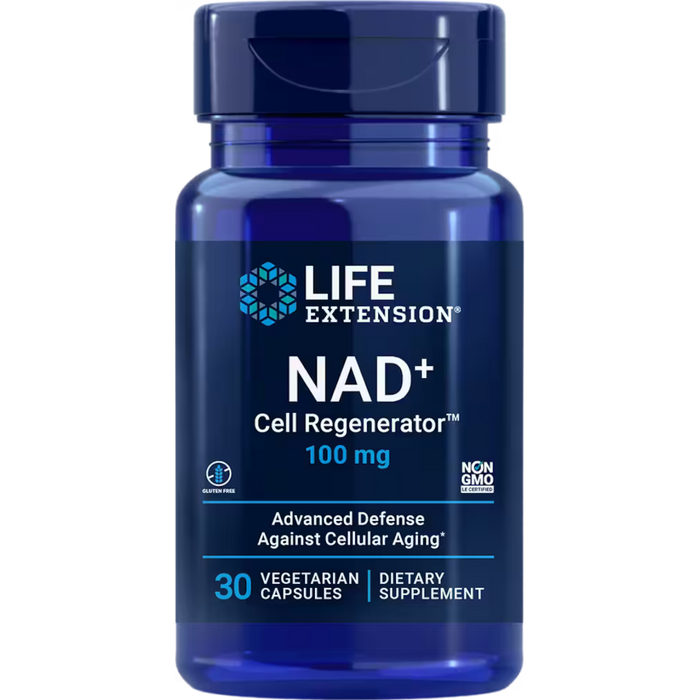 Life Extension NAD+ Cell Regenerator 100mg - 30 Capsules
Sale
Sale
Original price
$ 18.00
-
Original price
$ 18.00
Our NIAGEN® nicotinamide riboside formula encourages production of NAD+, a coenzyme that promotes cellular energy production and supports cellular metabolism.
NAD+ is a cellular coenzyme that's found in every cell of our bodies. NAD+ is necessary to create adenosine triphosphate (ATP), the compound the body uses for fuel. NAD+ Cell Regenerator™ helps maintain youthful levels of NAD+ with 100 mg of NIAGEN®, the first commercially available form of nicotinamide riboside, to help fight general fatigue at the cellular level.
By encouraging production of nicotinamide adenine dinucleotide (or NAD+), NIAGEN® helps protect against cellular aging.
NAD+ Cell Regenerator™ Benefits
Supports youthful levels of cellular coenzyme NAD+, which is necessary for the production of ATP, or cellular fuel
Promotes healthy cellular metabolism & energy production
Helps fight general fatigue & promote longevity
Encourages youthful cognitive function in pre-clinical studies
NAD+ Cell Regenerator™ promotes systemic youthful functions and boosts healthy cellular metabolism by helping inhibit the age-related decline in NAD+. NAD+ is a coenzyme critical to healthy cellular metabolism.1-4 NAD+ is found in every cell in your body, where it facilitates energy production and other systemic youthful functions.5,6
NIAGEN® nicotinamide riboside
NIAGEN® is a patented, clinically studied form of nicotinamide riboside, a compound that helps increase cellular levels of the NAD+ coenzyme. This is important because the NAD+ coenzyme is necessary for creating adenosine triphosphate (ATP), the compound your body uses to create cellular energy.7
In a randomized controlled trial, older adults taking 250 mg of nicotinamide riboside a day experienced a 40% increase in NAD+ levels after just 30 days.8 Evidence from pre-clinical studies indicates that increasing NAD+ also encourages healthy metabolic and cognitive function.9,10
Promotes healthy aging and longevity
NAD+ Cell Regenerator™ also promotes the activity of sirtuin (SIRT1 and SIRT3), essential proteins that work with NAD+ to promote healthy aging.11 It also enhances production and function of mitochondria, the cellular powerhouses that provide the energy you need to thrive.
Please see the Supplement Facts tab for a full listing of the Ingredients in this product. In summary, it contains: NIAGEN® Nicotinamide Riboside Chloride.
Supplement Facts
Dosage and Use
Take one (1) capsule daily, or as recommended by a healthcare practitioner.
Nicotinamide Riboside Chloride does not cause flushing.
Warnings
KEEP OUT OF REACH OF CHILDREN
DO NOT EXCEED RECOMMENDED DOSE
Do not purchase if outer seal is broken or damaged.
When using nutritional supplements, please consult with your physician if you are undergoing treatment for a medical condition or if you are pregnant or lactating.