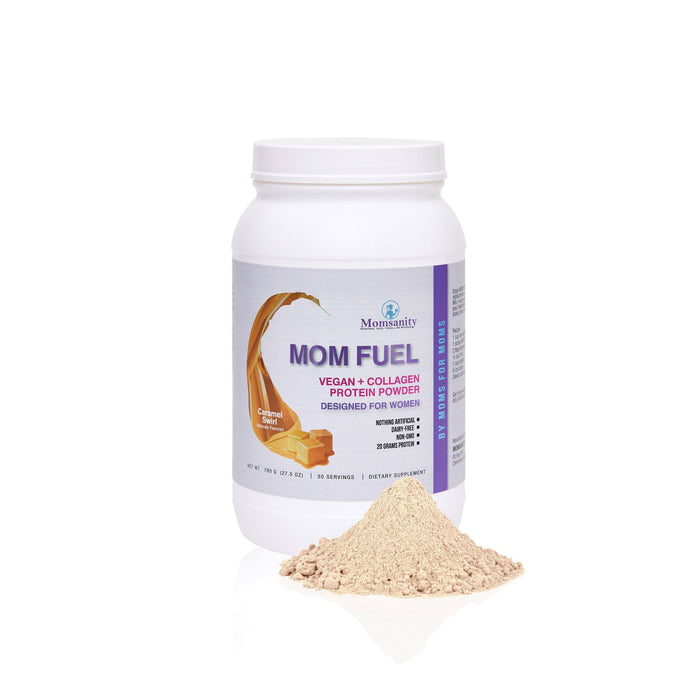 Momsanity Mom Fuel Protein Powder CARAMEL SWIRL
Sale
Sale
Original price
$ 52.00
-
Original price
$ 52.00
Momsanity's MOM FUEL protein powder is the convenient way to control hunger and promote fat loss.  It's not just for women! Don't let the name fool you.
MOM FUEL slims and tones, boosts energy, and tastes delicious! Our dairy-free blend of protein powder and collagen provides anti-aging benefits for your hair, skin, nails, and joints and promotes healthy digestion.
MOM FUEL contains no artificial sweeteners, no artificial flavors, no preservatives, no GMOs, no dairy, and no gluten. Our antioxidant blend helps fight oxidative damage. Because our protein contains only the best ingredients, it's a great source of nutrition for the whole family!
Enjoy MOM FUEL as a meal replacement up to 2 times a day. Mix 1 scoop with 12 ounces of your favorite liquid or blend 1 scoop into a protein smoothie.  Free Recipe Book Available using the link on the canister.
20 Grams of protein per scoop

15 grams Vegetable Protein

5 Grams Collagen Protein

Naturally Flavored

Naturally Sweetened

Naturally Colored

Includes MCTs

Includes Antioxidants

No Preservatives

No Gluten

No Dairy

No GMOs


Please see the Supplement Facts tab for a full listing of the Ingredients in this product. In summary, it contains: MCT Oil Powder (Medium Chain Triglycerides), Antioxidant Blend (Acai Berry, Acerol, Amla, Jabuticaba, Cranberry, Goji, Mangosteen, Maqui Berry, Strawberry, Organic Schisandra).
Articles
I focus a considerable amount on doing all I can to optimize your hormone health. I say that a lot because I hope that as you read this you begin to understand just how important hormones are to your overall health. These chemical messengers control so many different facets of our lives...
The holidays are fast approaching. With the holidays, people tend to let their guard down and they tend to eat and behave in a way they don't throughout the rest of the year. In some ways, this is understandable and even acceptable. In other ways, it's actually a really bad idea. The older you get, the less it takes to throw health gains off course. Even 4-6 weeks of bad eating can affect your body in ways that are tough to recover from...
As you may know, we're prone to hyperbole. It's not that we like exaggerating - it's just that we do a really good job of creating products that are good for you that happen to be mind-blowingly good. Like our Caramel Swirl protein shake by Momsanity...
Most supplements don't taste good. It's a fact. Granted, you don't eat many of them, especially when they're capsules... But still, the majority of supplements don't taste great...
Dr. Wiggy has written several articles on how good chocolate is for you. The truth is chocolate has some amazing properties that lend it to being one of the better foods you can eat on a daily basis. Obviously, the caveat here is, you don't want to be eating sugary versions of this food to try to get your health fix...
The vast majority of people who buy protein shakes in America don't buy them to lose weight. They actually buy them so they can gain weight. Well, at Health As It Ought To Be and in our clinic at Robinhood Integrative Health we like to do things that go against convention...
Every day all across the nation husbands use things that their wives would claim are theirs. Sometimes they're using their lotion… other times they're eating their chocolate...and rarely when they're in a pinch they may even use their deodorant (oh boy)...

All of these situations are less than ideal, obviously.
 If you've been paying attention to our blog for more than a year, you may wonder why we'd be writing about the benefits of protein. Especially as Dr. Wiggy has written about the dangers of protein before, and told people they need to be careful with protein intake. And while it's true Dr. Wiggy has focused on the benefits of a ketogenic diet, and in so doing, told people they need to tone down their protein intake… 
Here at Health As It Ought To Be we don't talk about people relying solely on meal replacements to get them through the day. On the other hand, we know that plenty of people have to augment their diet with things like protein shakes because the demands of life necessitate eating on the go...
Purchasing nutritional products can be really overwhelming.  There are about 1000 options available for just about everything these days.  If you're like me you might just want to avoid it all together. I get it. The quest to find quality...
f you've been to a "big box" store, or even more challenging a "health food" or supplement store, looking for a protein powder, then you may have felt just a tad bit overwhelmed. There are SO MANY label claims...
Mommin' ain't easy.  It is the busiest, most demanding job on the planet.  It's helping with homework, driving to ballet, scrubbing dishes, calming tantrums, wiping butts and that's just in one hour.  Have you ever daydreamed...
Collagen is the most abundant protein in the body, but it declines as we age.  This naturally-occurring protein is in our bones, muscles, tendons, ligaments, skin, and cartilage. Collagen is every mom's secret weapon...
Supplement Facts
Other Ingredients:
 Collagen, Natural Flavors, Coconut Milk, Stevia, Monk Fruit
Contains: Tree Nuts - Coconut