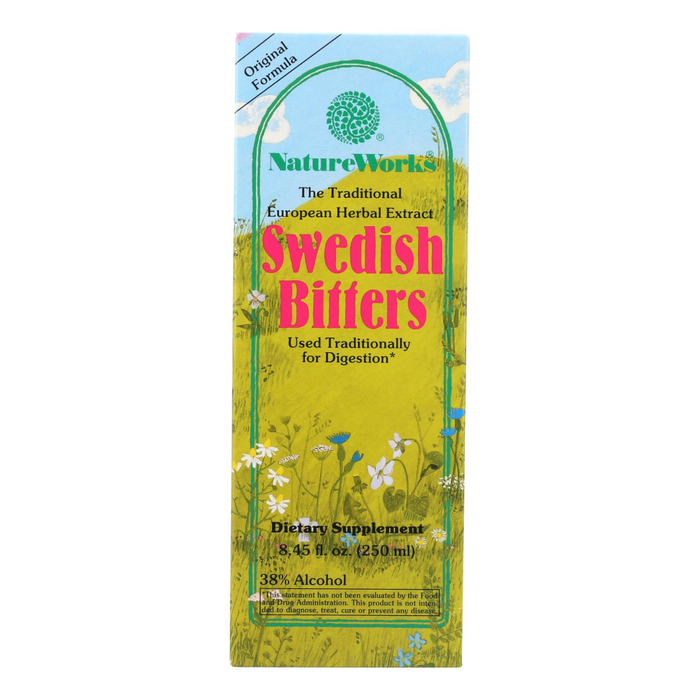 NatureWorks Swedish Bitters Liquid Extract - 8.45 fl oz.
Sale
Sale
Original price
$ 30.00
-
Original price
$ 30.00
Swedish Bitters contains a combination of herbs suggested to help cleanse the system, promote regularity, improve digestion, soothe the system, tone the liver, and increase energy.
Please see the Supplement Facts tab for a full listing of the Ingredients in this product. In summary, it contains: Proprietary Extract Blend: Manna (Fraxinus onus L) (stem), Angelica (root), Cape Aloe (leaf), Chinese Rhubarb (root), Senna (leaf), Zedoary (root), Myrrh (stem), Camphor, Carline Thistle (root), Black Cohosh (root), Cinnamon (bark), Valerian (root), Cardamom (fruit), Saffron (pistil).
Supplement Facts
Suggested use:
Adults and children over 15 years of age take 1-2 teaspoons daily for improved health and overall well being. For an exciting alternative way to take Swedish Bitters™, add ot a cup of herbal tea, like Chamomile or Peppermint, or to a glass of your favorite fruit juice. Shake well before using.
Warning: Do not use this product if you are pregnant or nursing a baby. Do not use this product when vomiting, nausea, diarrhea or abdominal pain are present. Keep out of the reach of children.