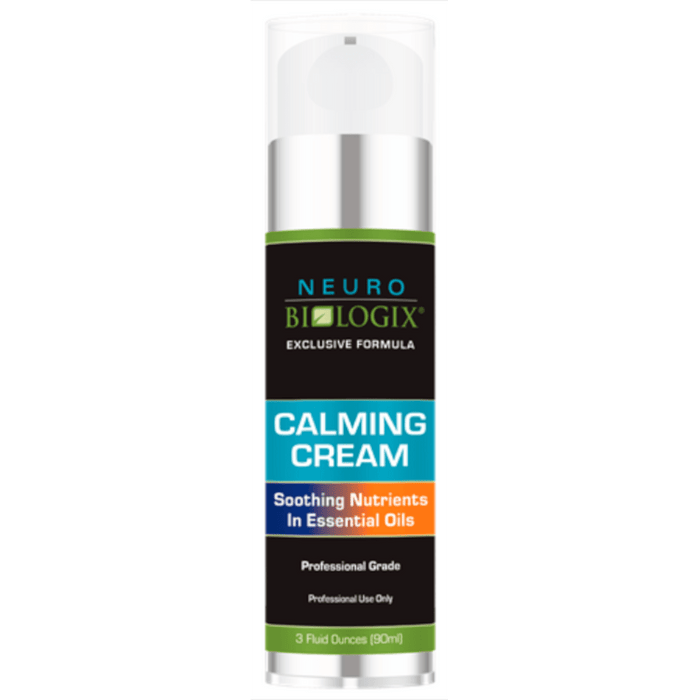 NeuroBiologix Calming Cream - 3 oz.
Sale
Sale
Original price
$ 47.25
-
Original price
$ 47.25
Calming Cream™ was designed by a leading neuroimmune specialist to provide maximum transdermal delivery of gamma-aminobutyric acid (GABA), L-Theanine,
L-Tyrosine, 5-HTP and Magnesium
to create a creamy lotion in a base
of lavender oil.
 Calming Cream may naturally assist with:
Relaxation*
Nervousness*
Mood*
Hyper Activity*
Occasional sleeplessness*
This topical cream is designed to naturally increase the levels of the calming reducing neurotransmitters in the brain such as dopamine, GABA and serotonin.
Features
From a whole-body standpoint, inhibitory neurotransmission by GABA has positive effects on neuromuscular relaxation. Accordingly, increased levels of GABA in the central nervous system (CNS) can result in relaxant effects as well as alleviating symptoms of nervousness and mood instability. In fact, the concept that GABA deficiencies or dysfunctions contribute to various mood issues and (CNS) issues (the GABAergic hypothesis) has become increasingly prominent in the scientific literature.*
5-HTP (Hydroxytryptophan) is a naturally occurring amino acid and chemical precursor in the biosynthesis of neurotransmitters serotonin and melatonin. Several studies have shown that 5-HTP supports a healthy mind, ease of movement and restful sleep.*
 Another important ingredient in our Calming Cream is L-theanine. L-theanine is an uncommon amino acid, primarily found in the green tea plant (Camellia sinensis), plus two other Camellia species. As L-theanine is concentrated in the leaves, it is present in preparations of green tea consumed as a beverage around the world. Therapeutically, L-theanine has been used as a natural relaxant, but it also has potential in easing nervousness and mood support.*
In addition, our physicians have included ingredients L-Tyrosine, Magnesium and lavender oil to combine a one of kind topical lotion.
Magnesium in general is essential for the survival of our cells but takes on further importance in the age of toxicity where our bodies are being bombarded on a daily basis with heavy metals. Glutathione requires magnesium for its synthesis. Without the cleaning of glutathione (magnesium) cells may begin to decay as filth and heavy metals accumulates.*

NOTE: Light brown color is expected and normal due to the natural L-Tyrosine. Color may be different per batch produced and may darken over time if left in a humid or hot area.
Supplement Facts
Serving Size: 1 or 2 pumps
Servings Per Container: 90 pumps
Ingredients: Water, Magnesium Lactate-Gluconate, Hydroxyethylacrylate/Sodium Acryloyldimethyltaurate Copolymer (and) Squalane (and) Polysorbate 60, Caprylic/Capric Triglycerides, Glycerin, Lecithin, Dimethicone, L-Theanine, Phenoxyethanol, 5-HTP (5-Hydroxytryptophan) GABA (Gamma Aminobutyric Acid), Citric Acid, Sodium Phytate, Vitamin E (D-alpha Tocopherol) Xanthan Gum, Lavandula Angustifolia (Lavender) Oil.
Dosage:
Children: 1/2 pump to 1 pump at bedtime to assist in falling asleep or staying asleep or as needed for nervousness or hyperactivity.
 Adults: 1-2 pumps as needed or as recommended by your healthcare professional. Always consult your healthcare professional if you have questions or concerns about these ingredients. (Approximately 60 pumps per bottle)
When used relaxation at bedtime it is recommended to be applied 30 minutes prior to bedtime.
If being used for nervousness or hyper activity apply as needed. Do not exceed over 4 dosages per day.
Most effective when applied on thin skin area where there is no hair. Do not bath 30 minutes after application.
CAUTION: Consult with your healthcare practitioner if you are pregnant or lactating before use. Discontinue use if skin irritation occurs. If skin irritation persists after several days consult with your healthcare advisor. Avoid contact with eyes. If contact occurs flush eyes with water for several minutes and contact your healthcare advisor. This cream is for cosmetic topical use only and not oral consumption.
*These statements have not been evaluated by the Food and Drug Administration. This product is not intended to diagnose, treat, cure or prevent any disease.