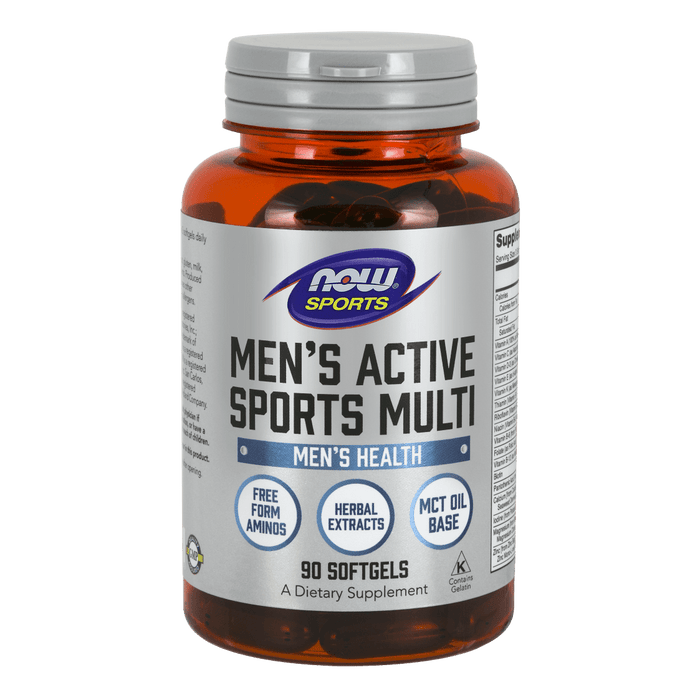 Now Foods Men's Active Sports Multi - 90 Softgels
Sale
Sale
Original price
$ 21.00
-
Original price
$ 21.00
Free-Form Aminos
Herbal Extracts
MCT Oil Base
This daily multi-vitamin for active men features free-form amino acids, ZMA®, tribulus, MCT oil, herbal extracts, and more. Specially formulated with high-quality ingredients that aren't usually found in an everyday multivitamin, NOW® Sports Men's Active Sports Multi supports all levels of athletes. Competitive athletes who are regularly tested should check with their sanctioning body for the status of this supplement.
Natural color variation may occur in this product.
Seals and Certifications
GMP;Kosher (Triangle K-Contains Gelatin);UL Dietary Supplement Certification

Please see the Supplement Facts tab for a full listing of the Ingredients in this product. In summary, it contains: Vitamin A (100% as Beta-Carotene) (Betatene), Vitamin C (as Ascorbic Acid), Vitamin D-3 (as Cholecalciferol), Vitamin E (as d-alpha Tocopheryl Acetate), Vitamin K-1 (as Phytonadione), Thiamin (Vitamin B-1) (from Thiamin HCl), Riboflavin (Vitamin B-2), Niacin (Vitamin B-3) (as Niacinamide), Vitamin B-6 (from Pyridoxine HCL), Folate, Vitamin B-12 (as Methylcobalamin), Biotin, Pantothenic Acid (from Calcium Pantothenate), Calcium [from Calcium Carbonate (Aquamin Seaweed Derived Minerals)], lodine (from Potassium lodide), Magnesium (from Magnesium Aspartate, Magnesium Oxide, Magnesium Citrate and Aquamin® Seaweed Derived Minerals), Zinc [from Zinc Bisglycinate (TRAACS™), Zinc Mono-L-methionine, Zinc Aspartate and Zinc Oxide], Selenium (from Selenium Glycinate) (Albion™), Copper (from Copper Bisglycinate) (TRAACSTHI, Manganese (from Manganese Bisglycinate) [TRAACST), Chromium (from Chromium Picolinate), Molybdenum (from Sodium Molybdate), MCT (Medium-Chain Triglycerides) Oil, Amino Acids proprietary blend of: L-Leucine, L-Isoleucine, L-Valine, L-Glutamine, L-Arginine, Taurine (all free-form), Tribulus terrestris Extract (Fruit), ZMA® (complex of Zinc Mono-L-methionine, Magnesium/Zinc Aspartate and Oxide, Pyridoxine HCI), CardioAid*-S Plant Sterol Esters (with Beta-Sitosterol, plus Campesterol and Stigmasterol), Panax ginseng Extract (Root), Maca (Lepidium meyenii) (Root), Green Tea Extract (Leaf), Saw Palmetto Extract (Fruit), Alpha Lipoic Acid, Aloe Vera (Leaf) (Concentrate), Lutein (from Marigold Extract), Lycopene (from Tomato Extract), Vitamin K-2 (as Menaquinone).
Supplement Facts
Not manufactured with wheat, gluten, milk, egg, fish or shellfish ingredients. Produced in a GMP facility that processes other ingredients containing these allergens.
Albion™ and TRAACS™ are trademarks of Albion Laboratories, Inc.; Aquamin® is a registered trademark of Marigot Limited.; Betatene® is a registered trademark of BASF SE.; ZMA® is a registered trademark of SNAC System, Inc. San Carlos, CA 94070.; CardioAid® is a registered trademark of Archer-Daniels-Midland Company.
Suggested Usage and Storage
Take 3 softgels daily with food. Store in a cool, dry, dark place after opening.

Caution: For adults only. Consult physician if pregnant/nursing, taking medication, or have a medical condition. Keep out of reach of children. Natural color variation may occur in this product. Store in a cool, dry, dark place after opening.