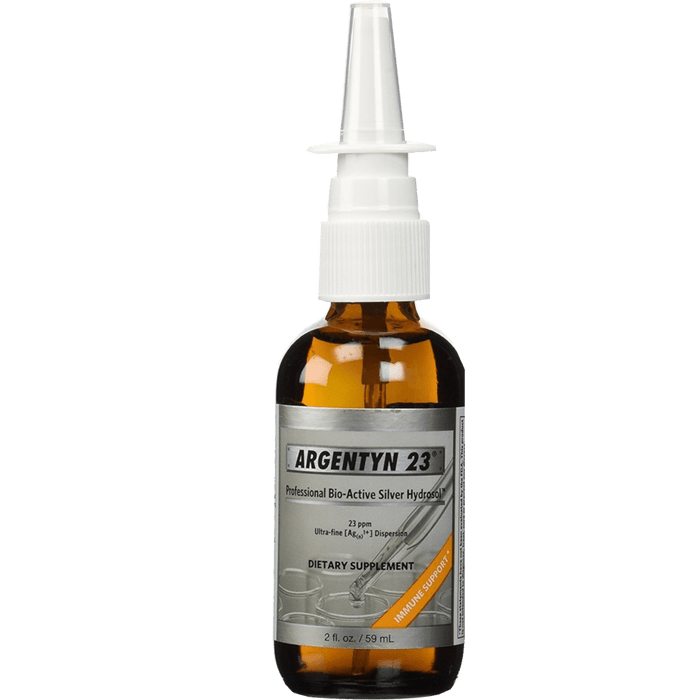 Natural Immunogenics Corp. Argentyn23® Bio-Active Colloidal SILVER Nasal Spray 2 fl. oz.
Sale
Sale
Original price
$ 22.99
-
Original price
$ 22.99
Argentyn 23® is a professional grade of silver hydrosol which is available only through licensed health care practitioners. Like Sovereign Silver, it represents the ultimate refinement and most significant breakthrough in colloidal technology, having consistently produced the smallest particles ever seen in colloidal silver products, with the most unique charge attributes (98% positively charged). The manufacturing technique is proprietary but particle size and particle charge have been confirmed by third party laboratories and universities. Argentyn 23 does not use additives or staabilizers, nor does it contain salts or proteins (often used to keep silver in suspension, but which create silver compounds). It is pure, meaning it contains only 99.999% pure silver suspended in pharmaceutical-grade purified water. 
Please see the Supplement Facts tab for a full listing of the Ingredients in this product. In summary, it contains: Silver.
Supplement Facts
Serving Size: 10 Sprays (1 ml)
Servings Per Container: 59

Amount Per Serving / % DV

Silver 23mcg / *

*Daily Value (DV) not established.

Other Ingredients: Pharmaceutical-grade purified water.

Endotoxin/Pyrogen Tested / Vegan / Vegetarian / Allergen-Free / Gluten-Free / Non-GMO. 
How to Use Argentyn 23® Bio-Active Silver Nasal Spray:
Adults*: 10 sprays
Children 4 years and older*: 5 sprays
Maintenance*: Once daily
Immune-building*: 3 times daily
Long-Term Immune Support*: 5 times daily
Short-Term Immune Support*: 7 times daily
For best shelf life, avoid sources of electromagnetic energy and extremes of light.
*These statements have not been evaluated by the Food and Drug Administration. This product is not intended to diagnose, treat, cure or prevent any disease.