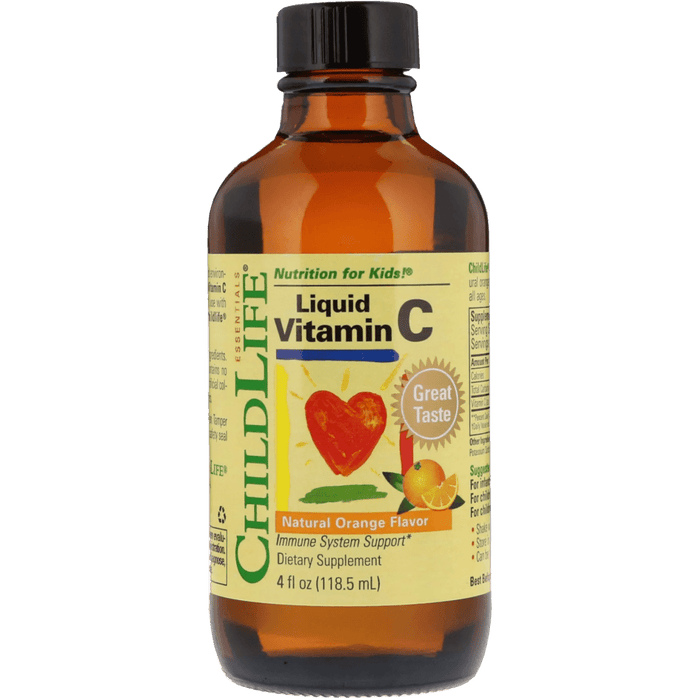 Childlife Essentials Liquid Vitamin C, Orange - 4 fl oz.
Sold out
Original price
$ 8.00
-
Original price
$ 8.00
The taste of ChildLife Essentials® Liquid Vitamin C will have your kids asking for it everyday.
Immune Support Superstar. Vitamin C has been thoroughly researched and shown to help support the immune system through daily use.
Helps Reduce the Impact of Environmental Substances. Children today are being exposed to more toxins than any previous generation. To defend against these pollutants, your child's body utilizes and requires extra antioxidants.
Please see the Supplement Facts tab for a full listing of the Ingredients in this product. In summary, it contains: Vitamin C (as Sodium Ascorbate and Ascorbic Acid).

Supplement Facts

How To Use:
For Ongoing Maintenance and Support
For infants 6 months – 1 year: 1/4 teaspoon daily
For children 1 – 3 years: 1/2 – 1 teaspoon daily
For children 4+ years: 1 – 2 teaspoons daily
Health Tip
For immune support and environmental protection, use ChildLife Essentials® Vitamin C daily as a vital antioxidant. When needed, use with ChildLife Essentials® First Defense and ChildLife Essentials® Echinacea.
These statements have not been evaluated by the Food and Drug Administration. This product is not intended to diagnose, treat, cure or prevent any disease.