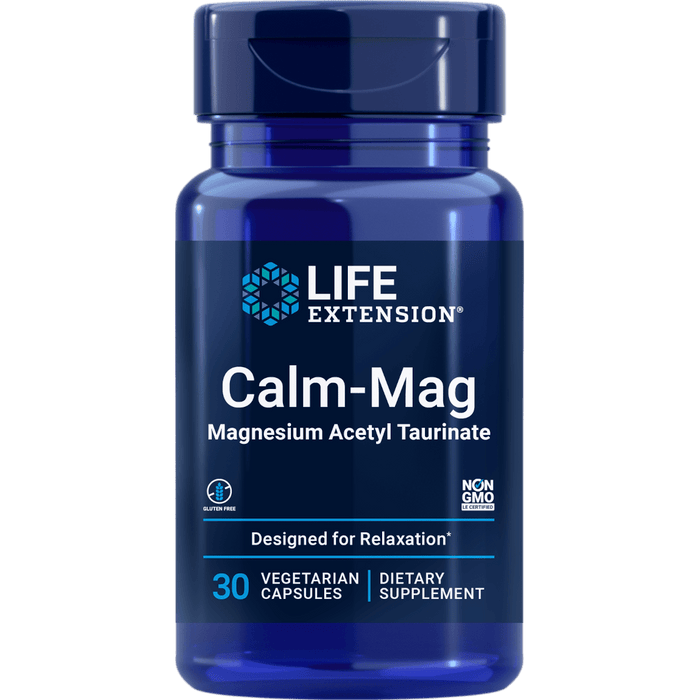 Life Extension Calm-Mag - 30 Vegetarian Capsules
Sale
Sale
Original price
$ 22.00
-
Original price
$ 22.00
Feeling overwhelmed? Calm-Mag Magnesium Acetyl Taurinate features a patented bioavailable form of magnesium that works with your brain to support a healthy stress response, which helps to calm your mind.
Calm-Mag Magnesium Acetyl Taurinate
Supports a healthy response to daily stress
Encourages feelings of calmness and relaxation
Promotes healthy activity of neurotransmitters like serotonin and GABA
Contains a special form of magnesium that's easier for the brain to use
Did you know that stress and magnesium levels are correlated? Studies show unmanaged stress leads to increased levels of stress hormones and low levels of magnesium, making it more difficult for the body to manage a healthy stress response.1
Many people are turning to magnesium supplements to help their bodies combat the effects of stress. But unless the mighty mineral is well absorbed and can access the brain, it won't help the body manage stress.
Supporting magnesium levels in the brain
Calm-Mag Magnesium Acetyl Taurinate is designed to help the body encourage feelings of calmness and relaxion by delivering a special form of magnesium (magnesium acetyl-taurate) that can cross the blood-brain barrier and positively impact brain pathways associated with stress management. Magnesium has been shown to help support the activity of neurotransmitters like serotonin and GABA.2
A preclinical study compared how magnesium levels in brain tissue were affected by different magnesium compounds: magnesium glycinate, magnesium acetyl-taurate, magnesium citrate and magnesium malate. The results showed that magnesium brain tissue levels were significantly increased by magnesium acetyl-taurate.3
Promotes tranquility and relaxation
A clinical trial of 19 women with a magnesium-poor diet showed improved feelings of relaxation and emotional calmness after supplementing with magnesium acetyl-taurate.
Please see the Supplement Facts tab for a full listing of the Ingredients in this product. In summary, it contains: Magnesium (from 750 mg of ATA Mg ® Magnesium Acetyl-Taurate).
Supplement Facts
Dosage and Use
Take one (1) capsule daily, or as recommended by a healthcare practitioner.
Warnings
KEEP OUT OF REACH OF CHILDREN

DO NOT EXCEED RECOMMENDED DOSE

Do not purchase if outer seal is broken or damaged.

When using nutritional supplements, please consult with your physician if you are undergoing treatment for a medical condition or if you are pregnant or lactating.