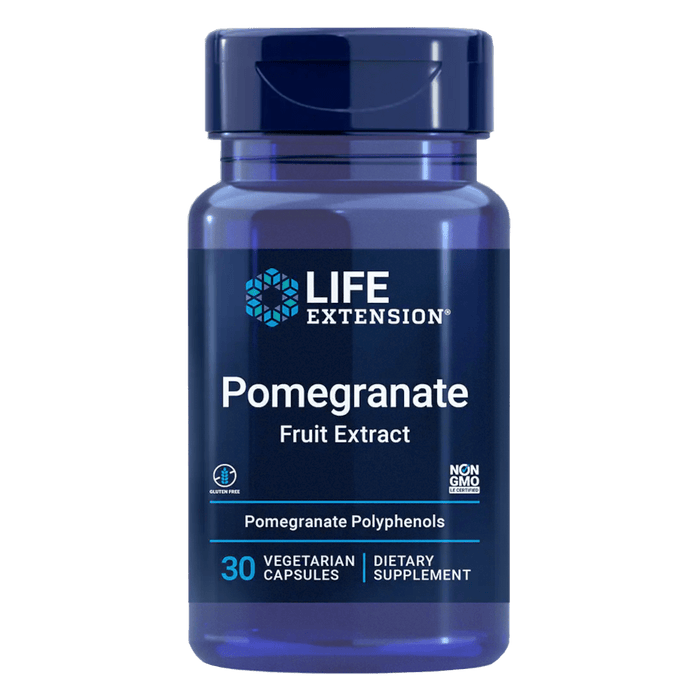 Life Extension Pomegranate Fruit Extract - 30 Vegetarian Capsules
Sale
Sale
Original price
$ 16.00
-
Original price
$ 16.00
Numerous studies show that pomegranate is one of nature's most powerful antioxidants. What's more, it's absorbed into the bloodstream far more efficiently than other fruit extracts. According to one study, pomegranate extract is 95% absorbed, which is far greater than any other polyphenol-containing fruit extract of its kind. Now you can get the polyphenol power of 24-30 pomegranates in every single capsule of Pomegranate Fruit Extract.
Benefits at a Glance
One of nature's most powerful antioxidants
Most bioavailable fruit extract of its kind
Each capsule contains the equivalent polyphenol content of 24-30 pomegranates
Highly effective suppression of free radicals
Although most plant polyphenols possess remarkable health benefits, they are relatively difficult for your body to absorb. However, the unique polyphenols found in pomegranate, called punicalagins, are 100% water soluble and show an amazingly efficient 95% absorption rate.1 It also contains active constituents called ellagitannins, which metabolize into beneficial polyphenols like ellagic acid.
Not only is pomegranate absorbed into your bloodstream far more efficiently than any other fruit extract, clinical studies have also shown pomegranate to be one of the most effective suppressors of free radicals in all of nature.2-8 It also helps suppress the inflammatory cytokine called interleukin-1 beta.
In response to the overwhelming scientific evidence of punicalagins' outstanding health benefits, which range from promoting cardiovascular health to prostate health,9-15 Life Extension® has created a standalone pomegranate extract. A proprietary extraction process preserves the pomegranate polyphenols (including the punicalagins) in a concentrated, dry powder form, so you can now obtain the equivalent health benefits of up to 12.3 ounces of pomegranate juice (or 24-30 pomegranates) in just one daily capsule but without the sugar or calories you would get from juice.
Non-GMO
POMELLA® Extract is covered under U.S. Patent 7,638,640 and POMELLA® is a registered trademark of Verdure Sciences, Inc.


Please see the Supplement Facts tab for a full listing of the Ingredients in this product. In summary, it contains: POMELLA® pomegranate extract (fruit) [std. to 30% punicalagins], Pomegranate 5:1 extract (fruit), Other ingredients: vegetable cellulose (capsule), silica, vegetable stearate, dicalcium phosphate.
Articles
Pomegranates are an interesting fruit. I don't know anyone who says pomegranate is their favorite fruit in the world. Yes, I know, plenty of people like them… but here in the states I don't think anyone is counting them among even their top 5...
Take one (1) capsule daily, or as recommended by a healthcare practitioner.
Warnings
KEEP OUT OF REACH OF CHILDREN
DO NOT EXCEED RECOMMENDED DOSE
Do not purchase if outer seal is broken or damaged.
When using nutritional supplements, please consult with your physician if you are undergoing treatment for a medical condition or if you are pregnant or lactating.
*These statements have not been evaluated by the Food and Drug Administration.
These products are not intended to diagnose, treat, cure, or prevent any disease.