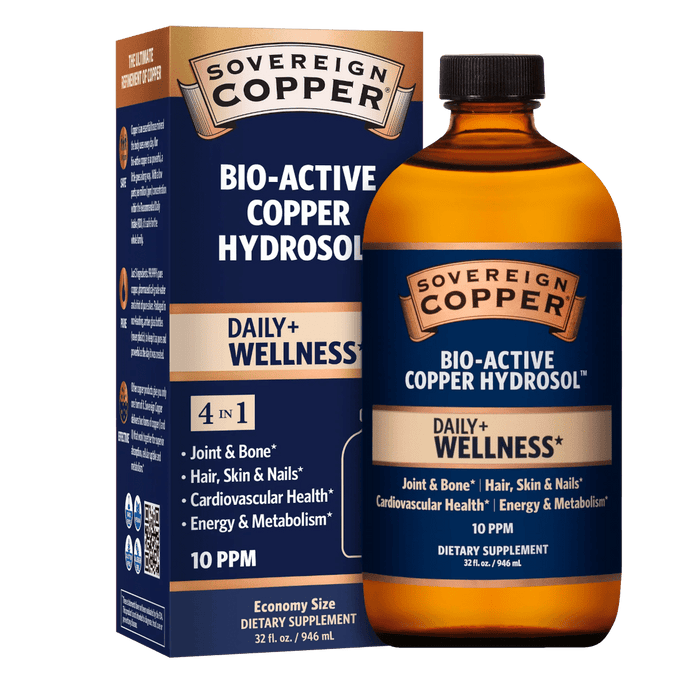 Natural Immunogenics Corp. Sovereign Copper Bio-Active COPPER Hydrosol - 32 oz.
Sale
Sale
Original price
$ 85.99
-
Original price
$ 85.99
Sovereign Copper Bio-Active Copper Hydrosol brings to market the First Copper product to include two forms of copper. By using Sovereign Copper's proprietary blend to include both Copper I and Copper I, it is more bio-available to the body, eliminating the extra work that must be done to convert it from one state to another. Sovereign Copper also presents multi-functional benefits that are important for daily supplementation. Behind it's 4-IN-1 formulation, Sovereign Copper aids in supporting strength of muscle, bone and connective tissue and the promotion of healthy hair, skin, & nails. Additionally, Sovereign Copper helps to support cardiovascular health, while helping to boost energy & metabolism.
Joint and Bone Health: Maintains the strength and flexibility of connective tissue resulting in healthier bone and cartilage structure.
Healthy Hair Skin and Nails: Helps your body build collagen and elastin for healthier hair, skin elasticity and firmer nails.
Cardiovascular Health: Supports strong and flexible arteries, helps the body absorb iron and aids in red blood cell production.
Supports Energy & Metabolism: Assists in the production of ATP (the energy producing molecule) and works to improve metabolism.
Supplementaion is Essential: As a trace mineral, Copper is critical to our health and wellbeing. While it's found in foods such as wholegrains, mushrooms and nuts, we only absorb 30-40% due to changes in commercial agricultural practices. The only way to obtain sufficient amounts of copper is to supplement approprietly.
Please see the Supplement Facts tab for a full listing of the Ingredients in this product. In summary, it contains: Copper, Silver.
Supplement Facts
Suggested Usage:
Adults: take one tablespoon daily, or as recommended by a healthcare practitioner. Swish it around in your mouth for 30 seconds, then swallow.

Warnings:
Sovereign Copper Hydrosol is not recommended for individuals with Wilson's Disease. Consult your health care practitioner if you are pregnant or breastfeeding or if you have advanced chronic liver disease. Overuse may decrease selenium levels. Individuals with known aluminum system toxicity may experience pseudo-fever reaction if colloidal copper is taken contrary to directions, due to exothermic reaction between aluminum and suspended mineral elements.