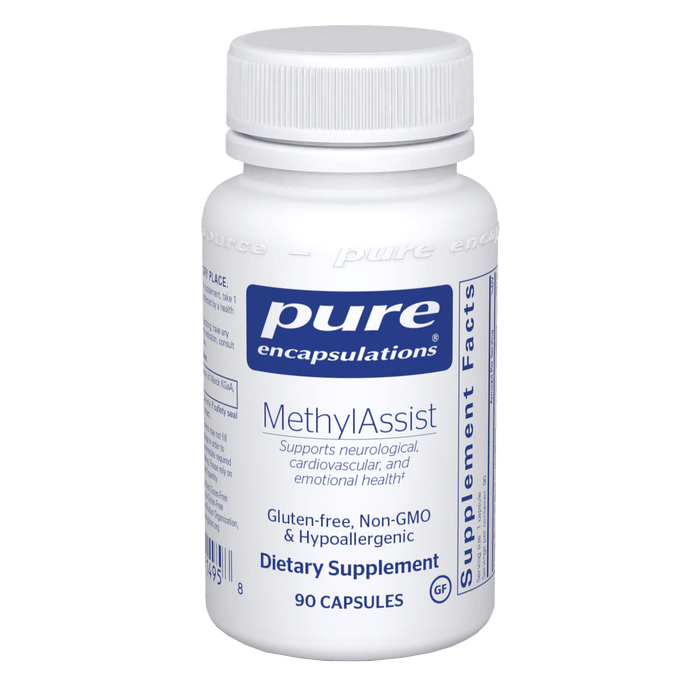 Pure Encapsulations Methylassist - 90 Capsules
Sale
Sale
Original price
$ 59.60
-
Original price
$ 59.60
Provides activated B vitamins to support healthy methylation, cardiovascular, neuronal and emotional health‡
Promoteshealthy endothelial function‡
Supports the methylationof homocysteine to methionine‡
Helpsmaintain peripheral nerve healthand comfort‡
Includes Metafolin®

 

, the naturally occurring, universally metabolized form of folate
Made with high-quality ingredients backed by verifiable science
Please see the Supplement Facts tab for a full listing of the Ingredients in this product. In summary, it contains: Vitamin B6 (as pyridoxal 5' phosphate) (activated B6), Folate (as Metafolin®, L-5-MTHF), Vitamin B12 (as methylcobalamin), BenfoPure® benfotiamine.
Supplement Facts
Indications

Ages 18 and up
Cardiovascular and neurological system support‡
Suggested Use
As a dietary supplement, take 1 capsule daily, with a meal, or as directed by a health professional.