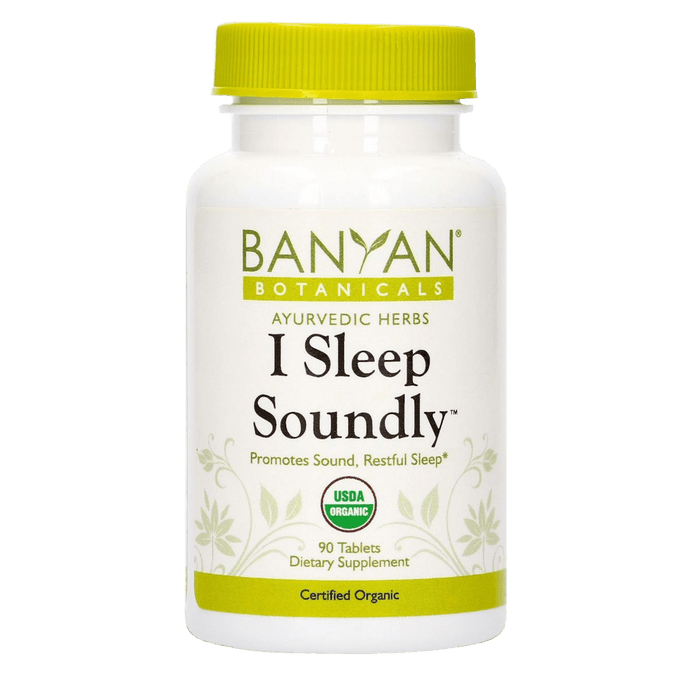 Banyan Botanicals I Sleep Soundly™ - 90 Tablets
Sale
Sale
Original price
$ 24.99
-
Original price
$ 24.99
Promotes Sound, Restful Sleep*
Supports natural, healthy sleep*
Helps release tension from the muscles*
Soothes the nerves and calms the mind*
Promotes revitalization during sleep*
In order to experience a deep, restful sleep the body must be fully relaxed and the mind calm. I Sleep Soundly contains natural muscle relaxants that help release the accumulated tension from a stressful day. In addition, the herbs also have a subtle, soothing effect on the mind that helps to ease the mental restlessness that can keep one tossing and turning throughout the night. Containing natural sleep promoters like chamomile and skullcap, I Sleep Soundly provides a deep sense of relaxation and calm that allows for a sound, healthy repose. As you rest, rejuvenating herbs like ashwagandha work to restore and revitalize the body and mind. Since I Sleep Soundly works to support the body's natural sleep process, you awake feeling rested, refreshed and full of vitality.*

Please see the Supplement Facts tab for a full listing of the Ingredients in this product. In summary, it contains: Eclipta leaf (Bhringaraj) (Ecliptc Alba+), Valerian root (Valeriana officinalis+), Skullcap herb (Scutellaria lateriflora+), Passionflower herb (Passiflora incarnata+), Indian Tinospora stem (Guduchi) (Tinosporo cordifolia+), Chamomile flower (Motricaria recutita+), Ashwagandha root (Withania somnifera+), Finger-leaf Morning Glory root (Vidari Kanda) (Ipomoea digitata+), Fennel seed (Foeniculum vulgare+), Long Pepper fruit (Pippali) (Piper longum+), Nutmeg seed (Myristica fragrans+).

Supplement Facts
Suggested Use:
Take 1–2 tablets 1/2 hour before going to bed, or as directed by your health practitioner.
Warning
If you are nursing, taking medications, or have a medical condition, please consult with your health care practitioner prior to the use of this product. Keep out of the reach of children.