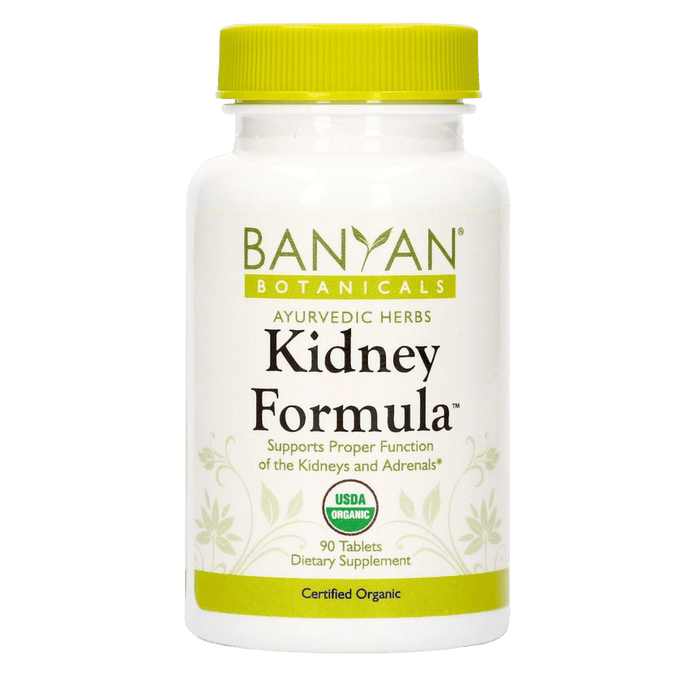 Banyan Botanicals Kidney Formula™ - 90 Tablets
Sale
Sale
Original price
$ 24.99
-
Original price
$ 24.99
Supports Proper Function of the Kidneys and Adrenals*
Strengthens and rejuvenates the kidneys and adrenals*
Supports healthy urinary composition and flow*
Soothes and tones the urinary tract*
Kidney Formula is a rejuvenating tonic for the kidneys and adrenals. It supports healthy urinary flow and composition, assisting in the natural cleansing of the blood. This energizing combination of herbs supports a healthy, unobstructed urinary tract and works to cool and soothe the entire urinary system. Stress and natural toxins from food and the environment can be challenging to the kidneys and adrenals over time, causing low energy and fatigue. Kidney Formula cleanses and nourishes these organs, infusing strength and improving resilience to such challenges.*
 
Please see the Supplement Facts tab for a full listing of the Ingredients in this product. In summary, it contains: Tribulus fruit (Gokshura) (Tribulus terrestris+), Boerhavia root (Punarnava) (Boerhavia diffusa+), Indian Tinospora stem (Guduchi) (Tinospora cordifolia+), Indian Madder root (Manjistha) (Rubia cordifolia+), Cyperus root (Musta) (Cyperus rotundus+), Hemidesmus Indicus root (Anantamul) (Hemidesmus indicus+), Passionflower herb (Passiflora incarnata+), Amalaki fruit (Amalaki) (Emblica officinalis+), Belleric Myrobalan fruit (Bibhitaki) (Terminalia belerica+), Chebulic Myrobalan fruit (Haritaki) (Terminalia chebula+), Coriander seed (Coriandrum sativum+), Fennel seed (Foeniculum vulgare+).


Supplement Facts
+Certified Organic
Other ingredients, from natural sources: organic gum acacia, organic rice flour. Free of gluten, soy and dairy. 100% vegetarian.
This item contains no animal products and is suitable for vegetarians and vegans.
Suggested Use:
1–2 tablets, once or twice daily, or as directed by your health practitioner.
If you are nursing, taking medications, or have a medical condition, please consult with your health care practitioner prior to the use of this product. Keep out of the reach of children.