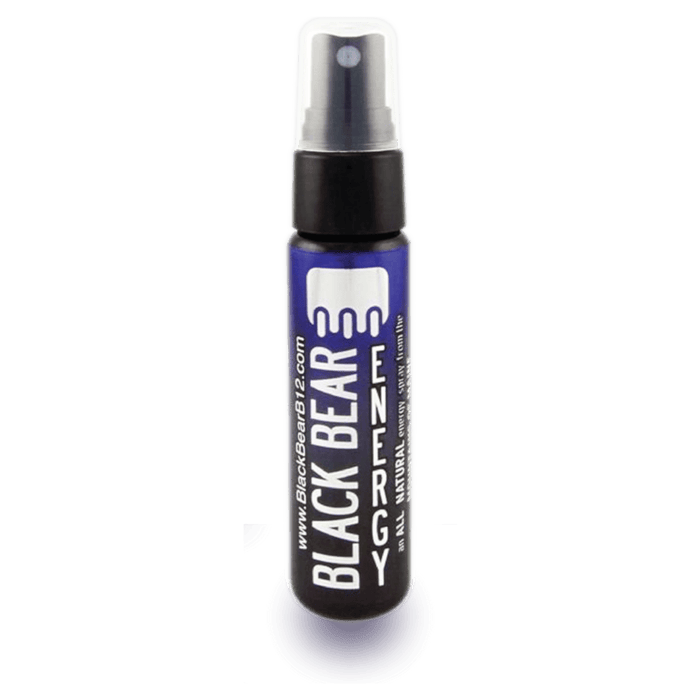 Black Bear Energy Spray - 25 ml
Sale
Sale
Original price
$ 15.00
-
Original price
$ 15.00
All Natural Energy from the Mountains of Maine.
Black Bear Energy Spray provides a caffeine free, all natural energy supplement for enhanced athletic performance and everyday life. Whether using Black Bear Energy Spray prior to an athletic event or to support the body's ability to maintain adequate & healthy B-12 levels, you avoid unwanted calories and the fullness most energy drinks create. For athletes in many sports, this is of tantamount importance when competing. The spray bottle is also ideal for carrying and using on the go.
Black Bear Energy Spray contains a unique blend of hydroxyl B12 and adenosyl B12 – special forms of B12 that can be used directly by your body. It also includes a mineral blend containing molybdenum, a mineral which is needed to process toxic sulfites, dairy and alcohol. Some of the largest molybdenum stores are found in Maine. Trehalose, a natural sugar used in Black Bear Energy Spray as a sweetener has been reported to help with offsetting certain types of nerve damage in the body, as well as stabilizing blood sugar and protecting the body from damage due to low temperatures. Black Bear Energy Spray is naturally flavored with blueberry, a native plant covering over 60,000 acres in the state of Maine and Xylitol.
Black Bear Energy Spray is safe and effective; a more natural form of energy that may also help protect against the damaging effects of alcohol and aging! One bottle of Black Bear Energy Spray contains a months supply if used as directed -but it is safe to use more if desired! There is no known level of toxicity associated with taking high levels of hydroxyl B12.

Please see the Supplement Facts tab for a full listing of the Ingredients in this product. In summary, it contains: Niacin, Vitamin B12 (hydroxy and adenosylcobalamin), Vitamin B6, Riboflavin, Proprietary Blend (Panax Ginseng Extract, Blueberry Extract, Rosemary Extract, Molybdenum Trace Mineral Blend).


Supplement Facts
Suggested Use:
As a dietary supplement apply at least 5 sprays into the mouth, hold for 10 seconds and then swallow. To be taken as needed or recommended by a health care professional.
Warning:
Keep out of reach of children. Do not take if pregnant or nursing without first consulting a physician.