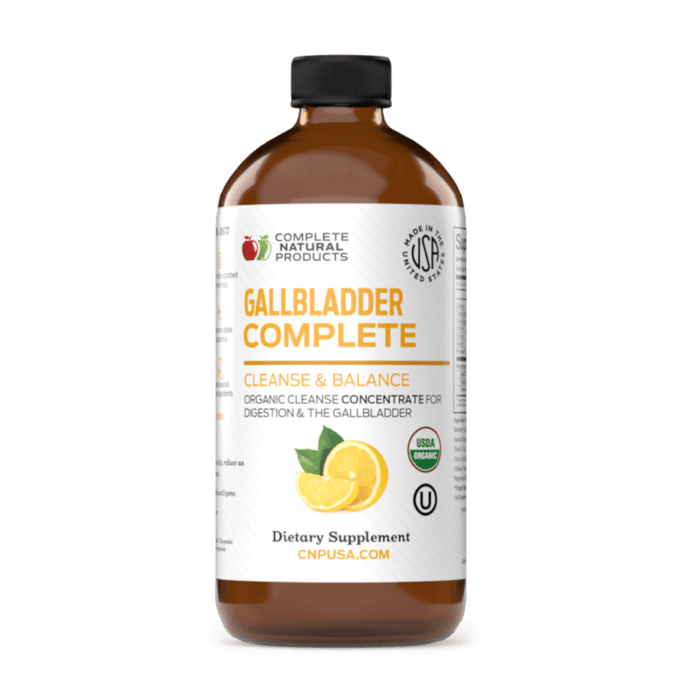 Complete Natural Products Gallbladder Complete - 16 oz.
Sale
Sale
Original price
$ 46.00
-
Original price
$ 46.00
The Standard Supplement for Gallbladder Support, a Gallbladder Flush, and Enzymes for a Gallbladder and Liver Cleanse & Detox Formula. Gallbladder Complete has been successfully used by Hundreds of Thousands of customers seeking support for Gallbladder related issues. The Gallbladder can be the leading source of many digestive health problems that we experience day in and day out. Use the Gallbladder Complete flush for the perfect Gallbladder Cleanse or as part of your diet to support sludge and gallstones in the future.
SPEED UP METABOLISM
Certified USDA® Organic and OU® Kosher. This Natural Gallbladder Formula is a liquid which absorbs quickly and starts helping immediately. Support your body to help with discomfort under the ribs, bloating, indigestion, and shoulder tension.
NATURALLY INCREASE BILE PRODUCTION
Helps the Gallbladder support attacks immediately. All Natural ingredients are clinically shown to provide you quick relief.
TASTES GREAT & EASY TO TAKE
As a liquid, the time tested Gallbladder Complete is absorbed far better than any pill or capsule would be. So its super beneficial to an herbal Gallstone flush and diet because it goes right to the issue, and starts supporting your Gallbladder (Liver & Pancreas) quickly.
DISSOLVE, DETOX, & CLEAN
Apple Cider Vinegar helps support the Gallbladder, Liver, and Pancreas on a pH level, to help support a gallstone flush, use as part of your Gallstone Diet to help cleanse and prevent future stones, dissolve and break stones, and clean sludge and buildup.
pH & REGULAR BOWEL MOVEMENTS
Chanca Piedra (Phyllanthus Niruri), Turmeric, Lemon, Milk Thistle & Hibiscus all help support your body with sludge and debris and moving bile.
Supplement Facts
DIRECTIONS
Take 30 min before your meal.
Take Straight or Dilute in 4oz of Water.
Shake before using. Refrigerate after opening.
Serving Size: 2 Tbsp (1 oz.)
Cleanse: Use 2 Tbsp daily until gone.
Gallbladder Issues: Use 2 Tbsp, 3 times per day. Reduce as symptoms are minimized.
Maintenance: Use 2 Tbsp every week, or more often if needed.