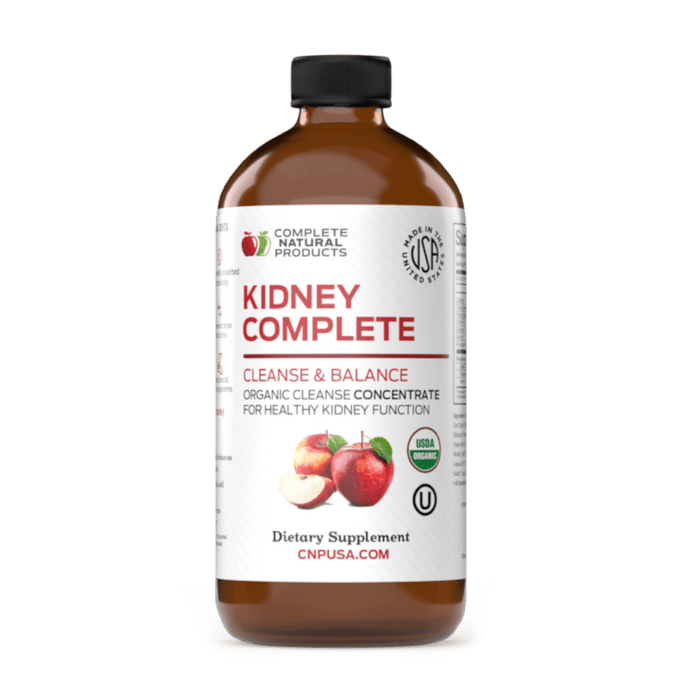 Complete Natural Products Kidney Complete - 16 oz.
Sale
Sale
Original price
$ 46.00
-
Original price
$ 46.00
The Natural & Organic Kidney Complete Treatment, Cleanse, & Detox will help support your body with the 3 of the best Organic Ingredients. Apple Cider Vinegar with the Mother, Chanca Piedra (The Stonebreaker), and Lemon.
The Natural & Organic Kidney Complete Treatment, Cleanse, & Detox may help with the symptoms associated with everything Kidney. It has the effect of helping to support discomfort, helping your body flush impurites, supporting your body for the passage of stones, and helping support the kidneys to better flush minerals that form stones. It will also cleanse the kidneys to support future buildup from occurring and help support all other kidney issues!
MADE WITH ORGANIC and KOSHER INGREDIENTS
The whole Kidney Complete Cleanse Treatment is Certified USDA® Organic and OU® Kosher. Use for a Cleanse or Detox, supporting stones, supporting filter aspects, or prevention of those issues.
GET KIDNEY SUPPORT IMMEDIATELY
All Natural ingredients that will cleanse and flush your kidneys fast, help support your body from kidney stone issues, and help support the body with your kidneys natural filtering abilities. Our organic chanca piedra and apple cider vinegar ingredients work well!
WHY USE A LIQUID CONCENTRATE
Research indicates that liquids are more easily absorbed into the body. With an average absorption rate of better than 90% vs. pills at 10-15%. As a liquid, Kidney Complete is absorbed far better than any pill or capsule would be. But above all, it goes straight to the issue!
CLEANSE, DETOX, & GET RESULTS
Apple Cider Vinegar helps support the kidneys on a pH level. When your kidneys are at the right pH, the detox and cleanse can happen much faster. The kidney's natural filtering is supported, thus helping create an atmosphere to support and stop future stones and buildup.
CHANCA PIEDRA ( PHYLLANTHUS NIRURI ) LEMON, ACV
With ingredients like organic chanca piedra, organic turmeric, organic lemon, organic apple cider vinegar & citric acid, Kidney Complete will help support your body in breaking down calcium and acid buildup, support kidney issues, and the many other aspects of your kidneys.
Please see the Supplement Facts tab for a full listing of the Ingredients in this product. In summary, it contains: Proprietary Blend (Apple Cider Vinegar*, Chanca Piedra*, Lemon Juice*).
Supplement Facts
INGREDIENTS
Apple Cider Vinegar*, Chanca Piedra*, Lemon*, Water, Beet Root Powder*, Stevia*, Blueberry*, Tart Cherry*, Raspberry*, Cranberry*, Black Currant*, Hibiscus*, Natural Cherry Flavoring*, Passion Flower*, Zinc, Grape Juice*, Citric Acid, Turmeric*, Black Carrot, Purple Corn, Parsley Leaf*, Red Cabbage, Vitamin B1, Cinnamon Oil*, Lemon Oil*, Vitamin B6, Peppermint Oil*, Rosemary Oil*, Garlic*, Lime Oil*, Vitamin B2. *Organic Ingredients
DIRECTIONS
Take 30 min before your meal.
Take Straight or Dilute in 4oz of Water.
Shake before using. Refrigerate after opening.
Serving size: 2 tbsp. (1 oz.)
Stones: use 2 Tbsp, 3 times daily. Reduce as symptoms are minimized.
Cleanse: use 2 Tbsp diluted daily until gone.
Maintenance: use 2 Tbsp every two weeks, or more often if needed.