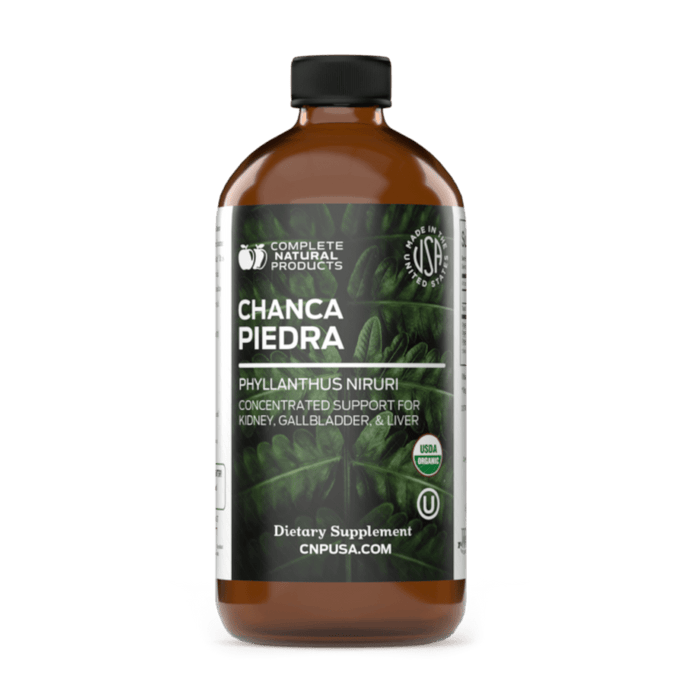 Complete Natural Products Organic Chanca Piedra Tincture & Extract Liquid - 16 oz.
Sale
Sale
Original price
$ 27.00
-
Original price
$ 27.00
One of the most sought after lab grade ingredients in the world, this amazing organic and natural herb from the rainforests of the Amazon is called the "stone breaker" or "stone crusher" because of its legendary ability to support your body with kidney stones and gallstones. 

WHY USE A PURE LIQUID CONCENTRATE
Research indicates that liquid supplements are more easily absorbed into the body. With an average absorption rate of better than 90% vs. pills at 10-15%, doesn't it make sense that a liquid can support your body better and is the best alternative? Pills, even when using the best of ingredients, are simply less effective for relief.
ALL NATURAL BREWING PROCESS
This steam distilled concentration is without the use of harmful alcohols or synthetic ingredients. We also use a Cold Pressed Process to make sure you are getting the highest concentrate of Lab Grade, Organic and Pure Chanca Piedra or Phyllanthus Niruri.

SUPPORTS KIDNEY & GALLBLADDER HEALTH
Helps support your body and Phyllanthus Niruri is widely known for its ability to help regulate kidney and gallbladder health as well as maintain regular liver health.
MANAGES CALCIUM LEVELS IN THE URINE
Chanca Piedra is an Amazonian superherb whose name translates to "stone breaker" in Quechua and Spanish, due to its traditional use of breaking up calcium deposits in the body.
DETOX & CLEANSE
Organic Chanca Piedra helps Maintain optimal liver health and has a powerful detoxifying and balancing effect for the urinary and digestive tract system.
Please see the Supplement Facts tab for a full listing of the Ingredients in this product. In summary, it contains: Organic Chanca Piedra*, Organic Lemon*, Organic Rosemary.
Supplement Facts

INGREDIENTS
Phyllanthus Niruri (Chanca Piedra)*, Filtered Water, Rosemary*, Lemon*. *Organic Ingredients
DIRECTIONS
Take 30 min before your meal.
Take Straight or Dilute in 4oz of Water.
Shake before using. Refrigerate after opening.
Serving Size: 2 Tbsp (1 oz.)
Cleanse: Use 2 Tbsp daily until gone.
Kidney & Gallbladder: 2 Tbsp, 3 times per day, until gone.
Maintenance: 2 Tablespoons every two weeks, or more as needed.