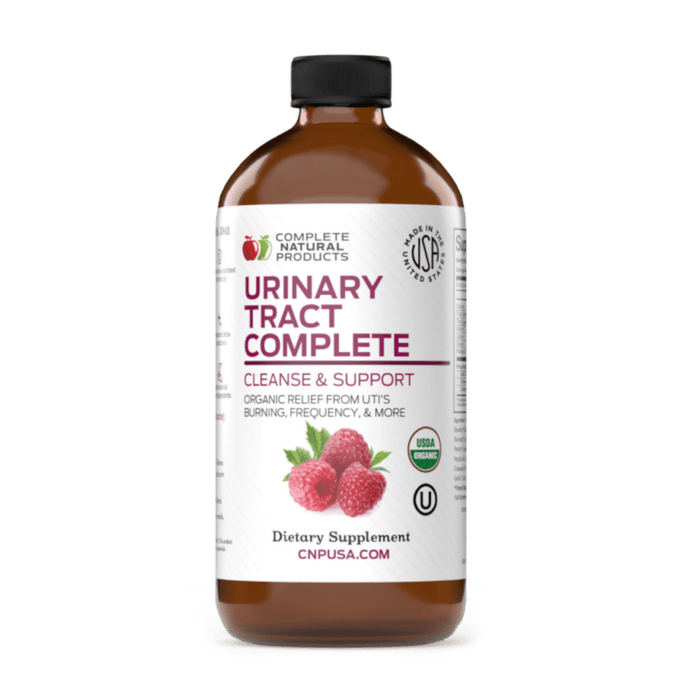 Complete Natural Products Urinary Tract Complete - 16 oz.
Sale
Sale
Original price
$ 46.00
-
Original price
$ 46.00
This all-natural Urinary Tract Remedy and Treatment helps flush your Urinary Tract, helps to prevent, and is one of the best organic medicine's for women, men, children! This is a Natural Health Defense and organic liquid bladder and urinary tract issue preventative and will help support and prevent UT issues. Our concentrated organic liquid is an effective, easy way to flush your urinary tract. Get support from UT issues that you have now or in the future!
MADE WITH ORGANIC and KOSHER INGREDIENTS
The whole Urinary Tract Complete Treatment is Certified USDA® Organic and OU® Kosher. Fights urinary tract issues immediately for natural Urinary Tract Health support.
CLEARS ALL TYPES OF UT ISSUES
Fights Urinary Tract Issues Immediately. All Natural ingredients, clinically shown, to cleanse your Urinary Tract fast, provide you quick support for burning, pain, and discomfort. Skip the pills and capsules and solve your UT issues!
WHY USE A LIQUID CONCENTRATE
Research indicates that liquids are more easily absorbed into the body. With an average absorption rate of better than 90% vs. pills at 10-15%. As a liquid, Urinary Tract Complete is absorbed far better than any pill or capsule would be. But above all, it goes straight to the issue!
SUPPORT A HEALTHY PH LEVEL
Organic Apple Cider Vinegar helps support the Urinary Tract, Bladder, & Kidneys on a pH level, to help clear and prevent future Urinary Tract issues.
ORGANIC CRANBERRY, D-MANNOSE, & ORGANIC LEMON
Organic Cranberry, D-Mannose, Organic Lemon & Organic Devils Claw Root all help support your body in expelling free radicals, urinary tract, and bladder Issues.
Please see the Supplement Facts tab for a full listing of the Ingredients in this product. In summary, it contains: Proprietary Blend: Apple Cider Vinegar*, D-Mannose, Cranberry*.
Supplement Facts
DIRECTIONS
Take 30 min before your meal.
Take Straight or Dilute in 4oz of Water.
Shake before using. Refrigerate after opening.
Serving Size: 2 Tbsp (1 oz.)
UT Issues: use 2 Tbsp, 3 times daily. Reduce as symptoms & pain are minimized.
Cleanse: use 2 Tbsp daily until gone.
Maintenance: use 2 Tbsp every week, or more often if needed.