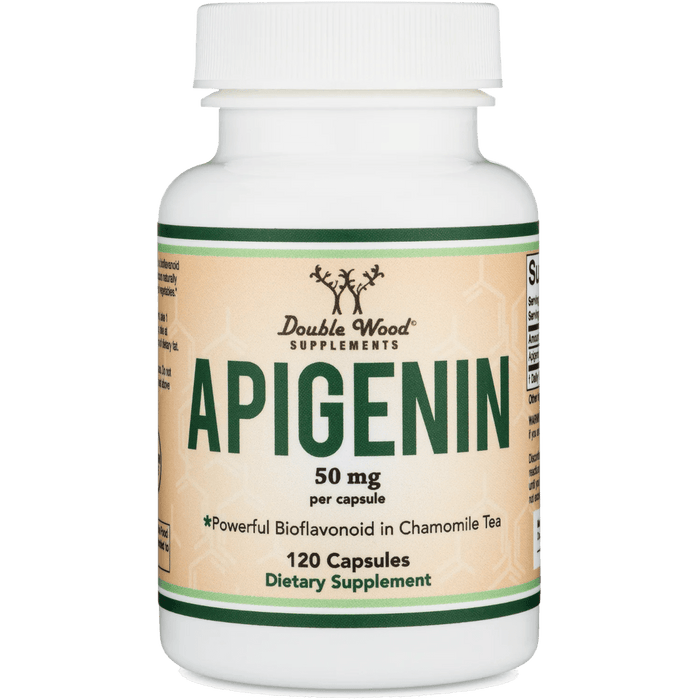 Double Wood Supplements Apigenin - 120 Capsules
Sale
Sale
Original price
$ 25.00
-
Original price
$ 25.00
• SUPPORTS SLEEP QUALITY - Apigenin supports sleep quality without causing sedation at normal dosages.
• SUPPORTS HEALTHY STRESS LEVELS - Apigenin supports healthy stress levels by exerting an inhibitory effect on cortisol.
• MANUFACTURED IN THE USA - Our Apigenin is manufactured right here in the U.S.A. and is tested for purity and potency.
Apigenin is a bioflavonoid and antioxidant compound which is found in many different plants and herbs but is especially abundant in chamomile tea. Apigenin is often used as a supplement for its relaxing properties and its ability to support healthy sleep quality and stress levels.
Please see the Supplement Facts tab for a full listing of the Ingredients in this product. In summary, it contains: Apigenin. 

Supplement Facts
Recommended Dosage
As a supplement for sleep, take 50 mg (1 capsule) per day before bedtime along with a source of dietary fat. To support healthy stress levels, take 1 capsule per day in the morning with breakfast.

While a 100 mg (2 capsules) can be taken safely many people may find this dosage to be too high to be used in the morning so a 2 capsule dosage is only recommended for those using Apigenin for sleep who find a 1 capsule dosage to be insufficient. We don't recommend exceeding 2 capsules per day.
Side Effects
Apigenin is safe and well tolerated though at higher doses stomach discomfort is a common side effect. If you experience stomach or other GI side effects from Apigenin we recommend reducing the dosage you take it at.