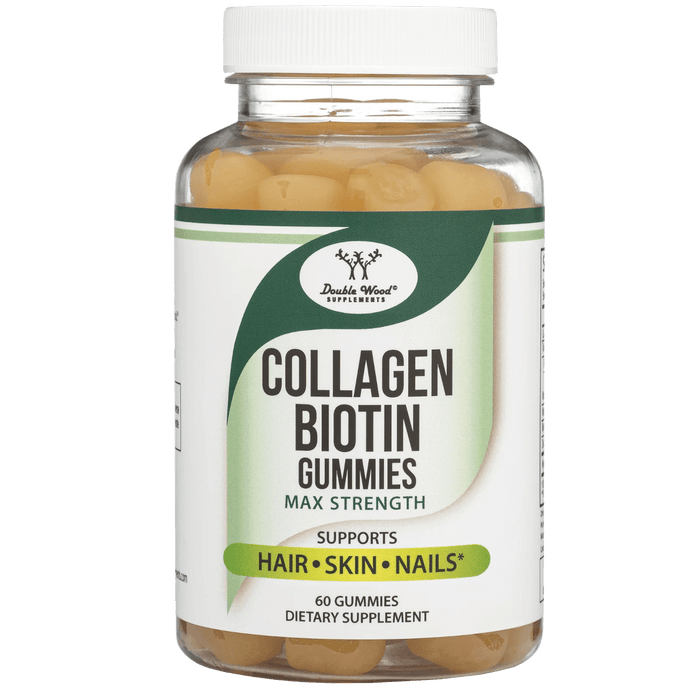 Double Wood Supplements Collagen Gummies - 60 Gummies
Sale
Sale
Original price
$ 20.00
-
Original price
$ 20.00
Collagen is the most abundant protein in the body and is a major component of the connective tissues found in numerous body parts including joints, ligaments, skin, and muscles. Collagen has numerous functions in the body such as helping to structure skin and strengthen bones. Collagen is often used as a supplement to support the health of joints, nails, hair, skin, and bones.

Biotin, also known as "vitamin H" plays an important role in skin and hair maintenance and works synergistically with collagen. Also included is Zinc, Vitamin C, and Vitamin E which all provide some benefits to skin and hair health.
BENEFITS

• HAIR, SKIN, NAIL, BONE, JOINT SUPPORT - Taking a hydrolyzed collagen supplement daily may help support skin, hair, joint, and nail health.
• CONTAINS BIOTIN FOR IMPROVED EFFECTIVENESS - Biotin works in tandem with collagen to support hair and skin health.
• MANUFACTURED IN THE USA - Our Collagen supplement is manufactured right here in the U.S.A. and is tested for purity and potency.

Please see the Supplement Facts tab for a full listing of the Ingredients in this product. In summary, it contains: Vitamin C (as Ascorbic Acid), Vitamin E (as dI-Alpha Tocophery) Acetate), Biotin, Zinc (as Zinc Citrate), Hydrolyzed Collagen.
Supplement Facts
Recommended Dosage
We recommend taking 2-4 gummies per day with or without food to support hair, nail, or skin health. We do not recommend exceeding 6 gummies per day. The recommended dosage of 2 gummies will provide the following amount of each ingredient:

• Hydrolyzed Collagen – 200 mg
• Biotin - 2500 mcg
• Vitamin C - 50 mg
• Vitamin E - 10 mg
• Zinc - 5 mg
Side Effects
Collagen is a very safe and well tolerated supplement, and side effects are extremely rare when used at normal doses. The main side effects people sometimes report are feelings of fullness and heartburn.