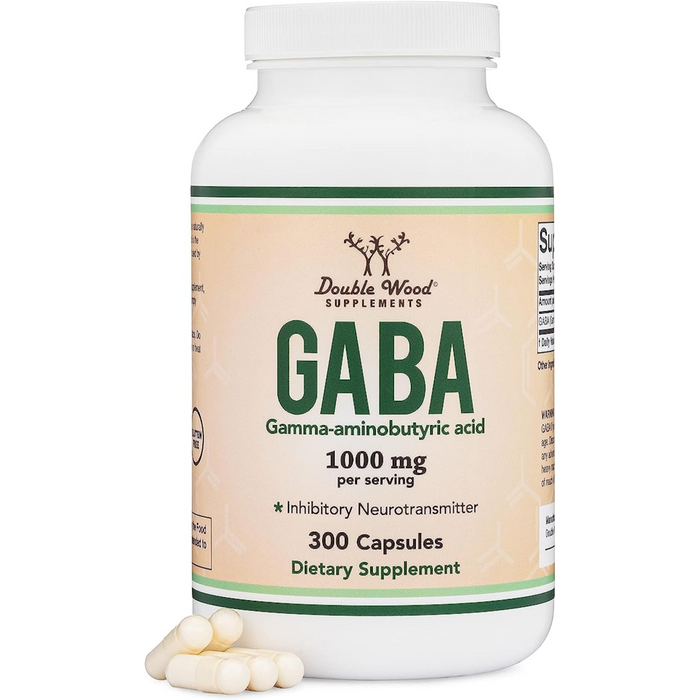 Double Wood Supplements GABA 1000 mg - 300 Capsules
Sale
Sale
Original price
$ 28.00
-
Original price
$ 28.00
GABA is the primary inhibitory neurotransmitter which is the most potent depressive neuroamine in the brain. It is responsible for regulating many of the depressive and sedative actions that the body requires to enter a state of relaxation. As a supplement GABA is often taken to support mood and a healthy stress response.
Benefits
• SUPPORTS HEALTHY STRESS MANAGEMENT - G.A.B.A. can promote relaxation and support a healthy stress response.
• SUPPORTS HEALTHY SLEEP QUALITY - G.A.B.A helps to support healthy sleep quality.
• MANUFACTURED IN THE USA - Our G.A.B.A supplement is manufactured and tested for safety right here in the U.S.A.
Please see the Supplement Facts tab for a full listing of the Ingredients in this product. In summary, it contains: GABA (Gamma-aminobutyric acid).
Recommended Dosage
For use as a supplement we recommend a dosage of 2-4 capsules (1000 – 2000 mg) taken as needed for stress management or in the evening for sleep quality. GABA is water soluble and does not need to be taken with food.

We do not recommend exceeding 2000 mg per day as side effects are more likely at higher doses.
Side Effects
While GABA is very well tolerated and side effects are rare at normal doses, side effects which have been reported include upset stomach, headache, sleepiness, and muscle fatigue.

Since GABA can cause drowsiness you should not drive or operate heavy machinery after using GABA until you know how it affects you. Ask your physician before using GABA, especially if you are taking any opiates, benzodiazepines, or similar GABAergic prescription drugs.