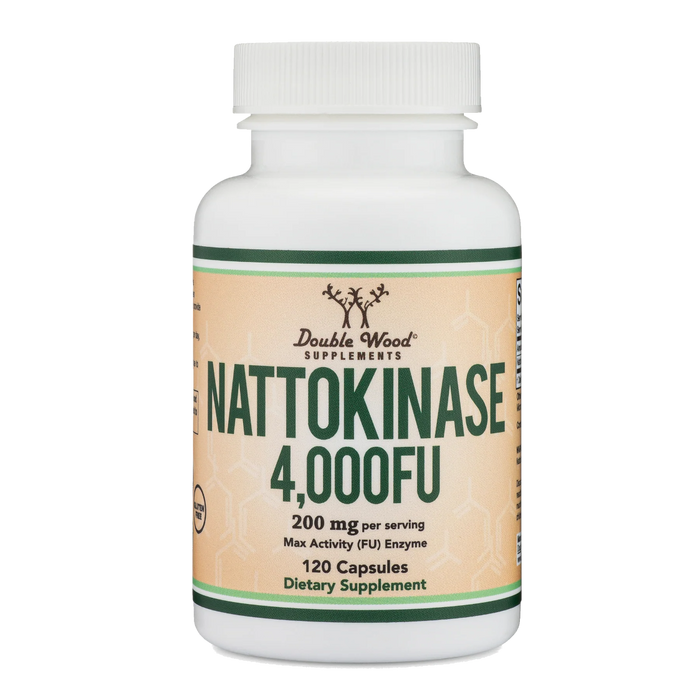 Double Wood Supplements Nattokinase 4000FU (200mg) - 120 Capsules
Sale
Sale
Original price
$ 23.00
-
Original price
$ 23.00
Nattokinase is one of many different enzymes isolated from the fermented food product known as Nattō. (Fermented, boiled soybeans). Nattokinase has become popular as a supplement in recent years due to its fibrinolytic properties allowing it to degrade fibrin which can help support healthy blood flow and overall cardiovascular health.

Nattokinase varies in potency from 1000 FU / 100 mg to 2000 FU / 100 mg, FU stands for fibrin units which as an activity unit quantifying the ability of a given Nattokinase supplement to degrade fibrin. Our Nattokinase supplement is highly potent at 2000 FU / 100 mg.
Benefits
o SUPPORTS HEALTHY BLOOD FLOW – Nattokinase may help support healthy blood circulation by lowering plasma levels of proteins which may inhibit blood flow.
o SUPPORTS CARDIOVASCULAR HEALTH – Research suggests Nattokinase may support cardiovascular health by promoting healthy circulation.
o MANUFACTURED IN THE USA - Our Nattokinase is manufactured right here in the USA and is tested for purity and potency.
Please see the Supplement Facts tab for a full listing of the Ingredients in this product. In summary, it contains:  Nattokinase.
Recommended Dosage
For use as a dietary supplement for cardiovascular health, we recommend taking two capsules per day (200 mg) with or without food. This dosage of our supplement provides 4000 FU of Nattokinase per day. We do not recommend exceeding this dosage.
Side Effects
Nattokinase is commonly consumed in foods and is unlikely to cause side effects at normal dosages, but caution should be taken by those with bleeding disorders as Nattokinase has mild blood-thinning properties and may exacerbate such conditions.

Caution should be taken when combining Nattokinase with other blood-thinners, and as it may increase the chance of bleeding during or after surgery it should not be used within 2 weeks of a surgical procedure.