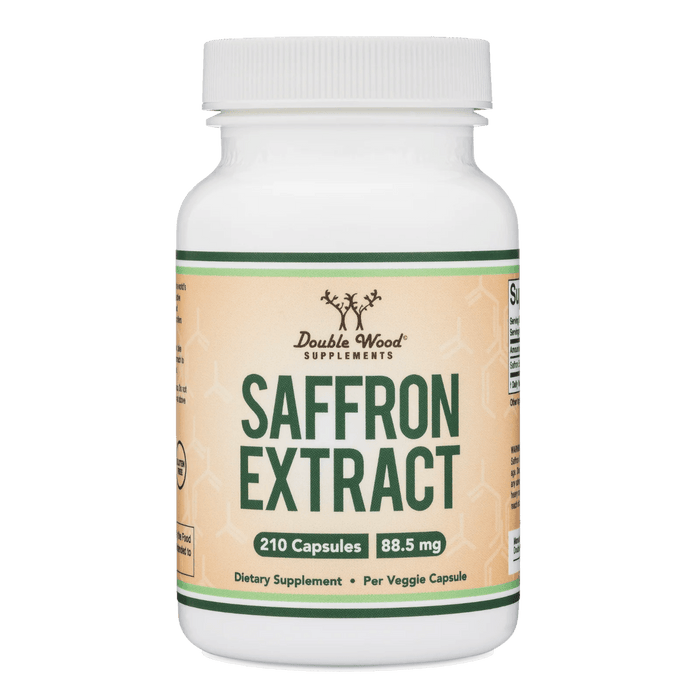 Double Wood Supplements Saffron Extract - 210 Capsules
Sale
Sale
Original price
$ 23.00
-
Original price
$ 23.00
Saffron is commonly known as the world's most expensive spice due to the high amount of labor needed to produce the spice from the plant itself.

Using Saffron in food will have the same effects as supplementation, but it can be very difficult to get the dose right when using it this way so its typically recommended to use a standardized extract instead. Double Wood's Saffron is a standardized extract with a 0.3% Safranal content.
Benefits

• SUPPORTS APPETITE CONTROL – Saffron has been shown to reduce appetite, making it easier to eat healthy portions.
• SUPPORTS OPTIMAL MOOD - Saffron may help to support an optimal mood.
• SUPPORTS HEALTHY WEIGHT MANAGEMENT - Saffron helps weight management by reducing one's appetite.
• MANUFACTURED IN THE USA - Our Saffron Extract is manufactured right here in the U.S.A. and is tested for purity and potency.
Please see the Supplement Facts tab for a full listing of the Ingredients in this product. In summary, it contains: Saffron Extract (Std. to 0.3% Safranal).
Supplement Facts
Recommended Dosage
As a supplement for mood improvement, take 1 capsule per day on an empty stomach. For appetite control, take 1-2 capsules per day on an empty stomach. It is strongly recommended not to exceed 2 capsules per day as Saffron can cause adverse side effects at high doses.

Its generally recommended to cycle Saffron, meaning it should not be used for longer than 8 weeks straight and its recommended to take 2 weeks off after using it daily for 8 weeks.
Side Effects
When taken at recommended doses Saffron is typically well tolerated, although mild side effects such as dry mouth, dizziness, drowsiness, and headaches can occur.

More severe side effects are possible at high doses, which is why we strongly recommend not to exceed a 2 capsule per day dosages. Nausea and Vomiting are common side effects of using Saffron at high doses, but more severe side effects such as bloody diarrhea, numbness, and bleeding.