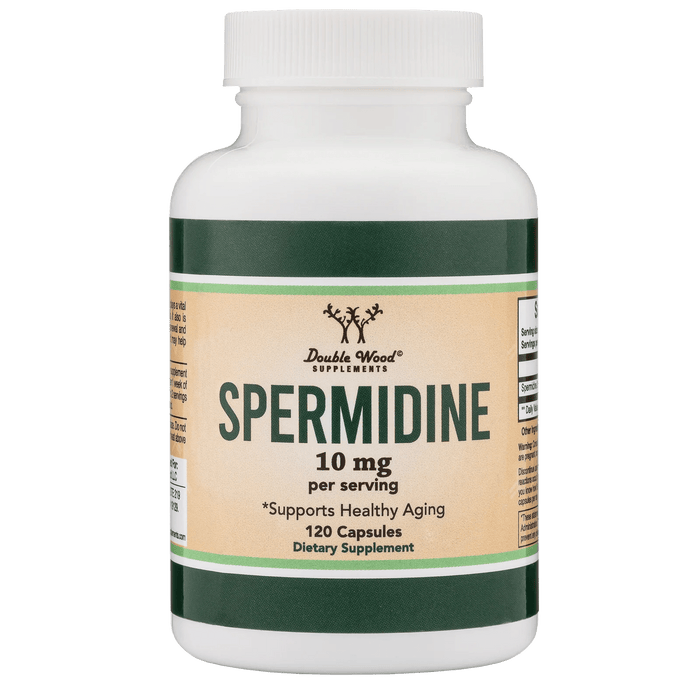 Double Wood Supplements Spermidine 10 mg - 120 Capsules
Sale
Sale
Original price
$ 28.00
-
Original price
$ 28.00
Spermidine is a natural compound found in many foods such as green peppers, wheat, broccoli, mushrooms, and many cheeses. It is a polyamine molecule which plays an important role in cell metabolism and small amounts can be found in all eukaryotic cells.
Benefits

• SUPPORTS HEALTHY AGING- Spermidine supports healthy aging and longevity due to its role in the process of cell renewal.
• SUPPORTS HEALTHY COGNITION- Spermidine can help support healthy memory and cognitive function.
• MANUFACTURED IN THE USA - Our Spermidine supplement is manufactured and tested for safety right here in the U.S.A.

Please see the Supplement Facts tab for a full listing of the Ingredients in this product. In summary, it contains: Spermidine 3HCL.
Supplement Facts
Recommended Dosage
We recommend starting with a 1-2 capsule dosage of 5-10 mg, which can be increased to a 2-4 capsule dosage of 10 – 20 mg if desired. We don't recommend exceeding a 4 capsule dosage. This product can be taken with or without food.
Side Effects
In numerous studies at typical doses Spermidine has not been shown to cause any adverse side effects. Still, it should be noted that as further research is conducted side effects could be found. We recommend not exceeding the recommended dosages as we have not found studies on high-dose Spermidine and aren't sure what side effects could result from usage at very high doses.