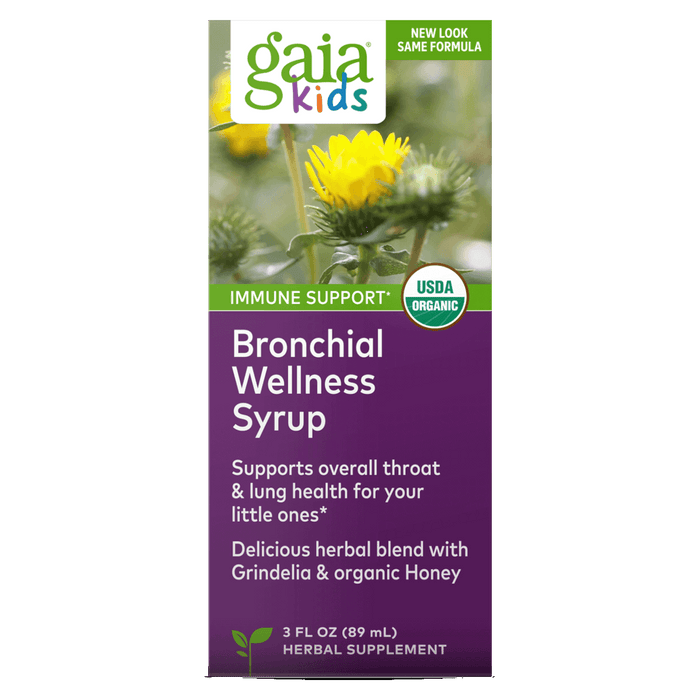 Gaia Herbs Bronchial Wellness for Kids - 3 fl oz.
Sale
Sale
Original price
$ 19.99
-
Original price
$ 19.99
Bronchial Wellness For Kids
Finding natural support for your child's throat and bronchial health which is both organic and great tasting can be a challenge. Bronchial Wellness for Kids has been popular with parents in Europe for over 10 years. Gaia Herbs now brings this herbal syrup to the U.S. Parents can trust the purity of organic herbs such as Plantain and Grindelia, used traditionally in Europe for promoting respiratory health and naturally processed to ensure high concentration and absorption. Kids, on the other hand, can enjoy the great taste which comes from organic honey and flavorful essential oils.
A Partnership of Mutual Beliefs
Bronchial Wellness for Kids is produced in Tuscany, Italy by Aboca, the herbal supplement leader in more than 25,000 European pharmacies and health food stores since 1978. Gaia Herbs' partnership with Aboca is born from a mutual belief in sustainable product development, dedication to quality, and a deep respect for science and nature working in harmony.
 
Please see the Supplement Facts tab for a full listing of the Ingredients in this product. In summary, it contains: Organic English Plantain leaf hydroalcoholic extract  (Plantago lanceolata), Organic English Plantain leaf freeze-dried extract (Plantago lanceolata) , Proprietary Blend: Organic Grindelia flowering tops freeze dried extract (Grindelia camporum) , Organic Helichrysum flowering tops freeze-dried extract [Helichrysum italicum], Lemon peel essential oils (Citrus x limon) , Orange peel essential oil [Citrus aurantium var. dulcis] , Myrtle leaf essential oil [Myrtus communis].

Supplement Facts
Suggested Use
Age 2 - 6: 1 teaspoon 2 times a day.
Age 6 and older: 1 teaspoon up to 4 times a daily.
Shake well before using. Refrigerate after opening.
Warning
This product contains honey - not for use in children under 1 year old. Use only as directed on label. If your child has a medical condition or take medications, please consult with your doctor before using this product. Use within one month of opening. Store in a cool, dry place. Safety-sealed for your protection. Do not use if safety seal is broken. Store away from children.