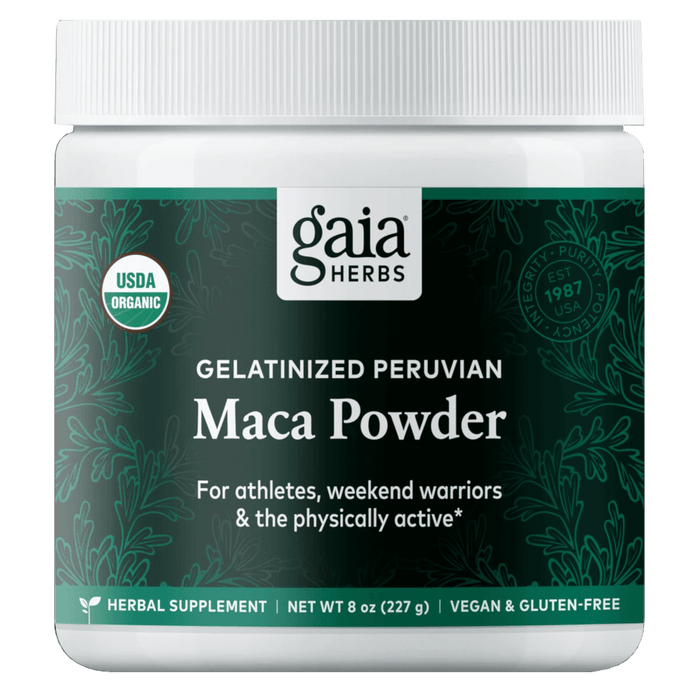 Gaia Herbs Gelatinized Vegan Organic Maca Powder - 8 oz.
Sale
Sale
Original price
$ 20.00
-
Original price
$ 20.00
Power your life with pure plant energy!
Since the days of the Inca Empire, Maca has been used as a caffeine-free, plant-based performance enhancer.* Grown and cultivated in the volcanic soils of the high Peruvian Andes, Maca thrives in this extreme environment. Traditionally used to promote energy and vitality, and support a healthy libido for men and women, the power of Maca is now available in a convenient powder.* Our Maca is steam and pressure extracted using a process known as gelatinization, which removes the starch and provides Maca which is concentrated and easily digested.*
Vegan. Organic. Gluten-free. Non-GMO.
Gelatinized for optimal digestibility & absorption*
Learn about Gaia's commitment to Maca quality, and discover why their Organic Maca Powder was named Best New Transparently Sourced Product by New Hope.
Maca is an indigenous Andean plant that belongs to the brassica (mustard) family. Maca is a vegetable that has been cultivated as a root crop for at least 2,000 years and used both nutritionally and medicinally. It can be found wild in Peru, Bolivia, Paraguay, and Argentina, but has primarily been cultivated in the highlands of the Peruvian Andes. According to folk beliAll productsef, Maca is an aphrodisiac and enhances sexual drive in humans and domestic animals, which tends to be reduced at higher altitudes.
Maca is known as an adaptogen, broadly contributing to overall well being and a healthy mood. Additionally, maca root has been touted to normalize energy levels and endurance and support a healthy libido.
Maca may alter the levels of sex hormones and may interfere with the effects of herbs taken for oral contraception. Glucosinolates may cause goiter if taken in excess combined with a low-iodine diet.

Please see the Supplement Facts tab for a full listing of the Ingredients in this product. In summary, it contains: Organic Maca Root (Lepidium meyenii).
Supplement Facts
Suggested Use
Adults take 1 teaspoon daily.
Dissolves easily in liquid. Add to a post-workout smoothie, juice, or sprinkle on a chai latte!
Disclaimer
This information in our Herbal Reference Guide is intended only as a general reference for further exploration, and is not a replacement for professional health advice. This content does not provide dosage information, format recommendations, toxicity levels, or possible interactions with prescription drugs. Accordingly, this information should be used only under the direct supervision of a qualified health practitioner such as a naturopathic physician.