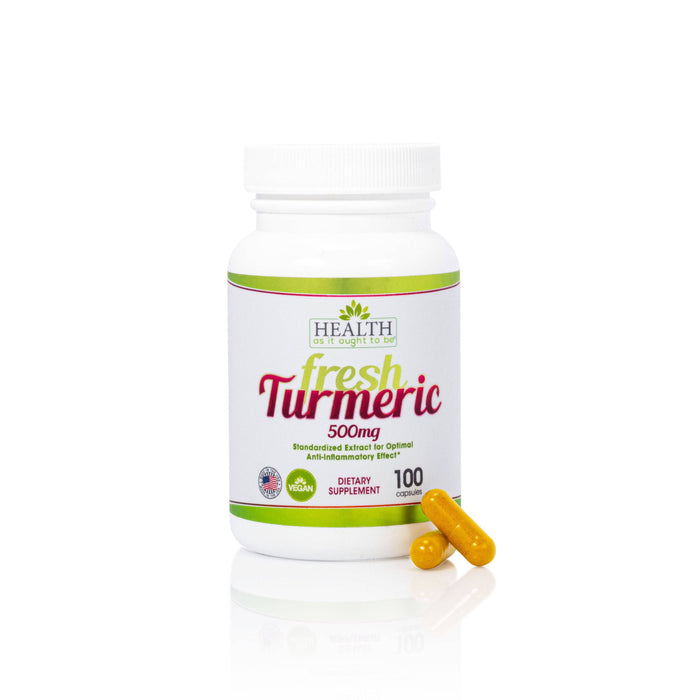 HAIOTB Fresh Turmeric 500 mg - 100 Capsules
Sale
Sale
Original price
$ 35.99
-
Original price
$ 35.99
Standardized extract for optimal anti-inflammatory effect.
Over 6,000 studies have shown turmeric's health-boosting benefits 
Turmeric helps to quell pain by reducing localized inflammation resulting from a few moments of damage.

So if you sprain your ankle, the inflammation localized to your ankle can be handled.

That's how ibuprofen works.
In fact, studies on turmeric show it can be just as effective as ibuprofen at helping reduce swelling and pain.

It was The Journal of Alternative and Complementary Medicine who made this discovery.
There's even research supporting turmeric's use as a way to combat the pain that comes with PMS.

Ask any woman and they'll tell you how painful the pain associated with PMS can be. Typical symptoms of PMS include backaches, headaches, pain in the gut/abdomen as well as tenderness of the breasts.
A 2015 study published in the journal Complementary Therapies in Medicine made some remarkable findings about how turmeric affected PMS pain.


Please see the Supplement Facts tab for a full listing of the Ingredients in this product. In summary, it contains: Turmeric Root (Curcuma Longa), Turmeric Root
(Curcuma Longa) (Stardardized to contain 95% Curcuminoids).

Articles
Have you ever gotten sick with a cold and hacked your throat raw? And then, long after your cold has left, you find you can't stop coughing? Chances are you said "yes," which is why we wanted to tell you about turmeric to help out with that nagging cough...
We love turmeric here at Health As It Ought To Be. For one, if you begin incorporating it into your diet via turmeric powder, you get some of the health benefits it offers while also getting a ton of the flavor it imparts in dishes. The facts are turmeric is one of the most versatile spices on the planet and it's why billions of people use it in their recipes daily...
Pain is something that we all deal with. But, the way we treat it varies. And the treatments we employ can have long-lasting negative effects on our health. Pain-killers like ibuprofen and acetaminophen are some of the most widely-used (and widely-abused) painkillers on the planet...
You know what's a pain in the neck? A pain, in the neck. Well, pain anywhere in the body is never fun to deal with. Sadly, most of us know if we want to numb pain it's generally pretty easy to do with a Motrin or some Tylenol. But, as I've written about before, neither of these over the counter painkillers is suitable for human consumption...
BDNF. A 4-letter acronym for one of the most important genes in the human body. BDNF stands for brain-derived neurotrophic factor. Harvard psychiatrist John Ratey describes brain-derived neurotrophic factor as a compound that is like "miracle-grow for your brain". And like a plant, if you want your brain to remain healthy and function at maximum capacity, then you'd be wise to do all you can to increase the release of BDNF inside your brain...
I'm not the kind of doctor who likes to dig too deep into the conspiracies surrounding the pharmaceutical industry.I believe the pharmaceutical industry has done some great things for humanity. I also believe that many of them have controlling interests who...
Everyone's talking about turmeric.The doctors on television are talking about it, the health blogs are talking about it, the people in the health food stores are talking about it...heck, even the President is talking about it.Wait, that's not true -...
Supplement Facts



OTHER INGREDIENTS: Hypromellose (Capsule),Microcrystalline Cellulose
HYPOALLERGENIC: Does not contain Soy, Wheat, Gluten, Milk, Corn, Shellfish or Tree Nuts
Suggested Use: Take one (1) capsule twice daily or as recommended by a healthcare practitioner.
Caution: Please consult with your healthcare provider if you are pregnant/nursing have a medical condition or are taking any medications before taking this dietary supplement. Do not exceed recommended dose. Do not purchase if outer seal is broken or damaged. Intended for adult use only.
KEEP OUT OF REACH OF CHILDREN.
Store tightly closed in a cool, dry place.
MADE IN THE USA
*These statements have not been evaluated by the Food and Drug Administration. This product is not intended to diagnose, treat, cure or prevent disease. 
Do not ingest freshness packet.