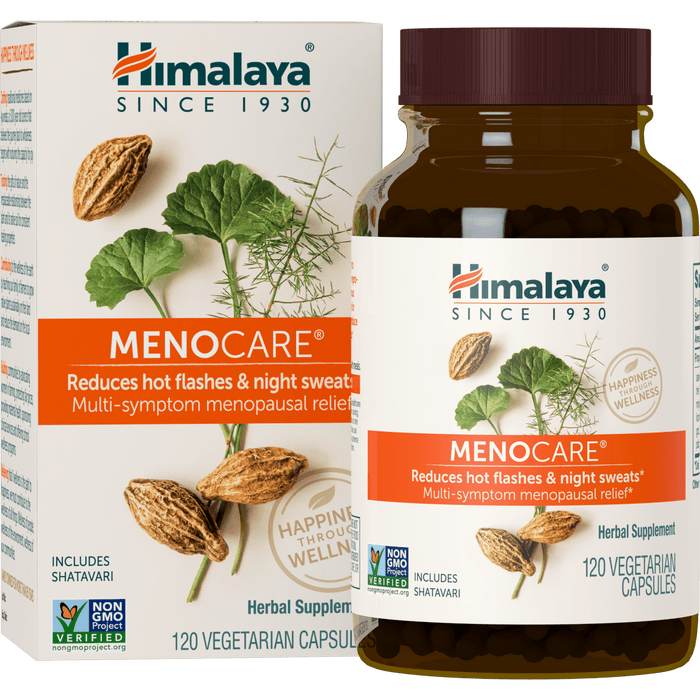 Himalaya Herbal Healthcare MenoCare® - 120 Vegetarian Capsules
Sale
Sale
Original price
$ 31.00
-
Original price
$ 31.00
Get support for uncomfortable menopausal symptoms like occasional hot flashes and night sweats*
Find support for irritability, mood swings, vaginal dryness and occasional sleeplessness*
MenoCare supports the nervous system, supports reproductive health and eases your transition*
Non-GMO Project verified with Shatavari, Asoka Tree, Gotu Kola and other herbal ingredients
Gluten-free, no Wheat, Corn, Soy or Dairy; Vegan-friendly and cGMP
What's In It?
Ayurveda describes the path through menopause as a transformative fire meant to release the energy of experience and wisdom. However, when hindered, the fire is contained in the body, leading to the commonly described symptoms of menopause.*
The ancient texts describe a path to balance by supporting the reproductive glands with Shatavari and the nervous system and adrenal glands with Ashoka bark and Gotu kola leaves.*
This path is the guidance for MenoCare®, which is formulated to reduce hot flashes and night sweats.*
Please see the Supplement Facts tab for a full listing of the Ingredients in this product. In summary, it contains: Proprietary herbal blend (asoka tree (bark), heart-leaf sida (root), asoka tree° (bark), shatavari° (root), chebulic myrobalan° (fruit rind), heart-leaf sida° (root), licorice (root), licorice® (root), shatavari (root), gotu kola (whole plant), gotu kola® (whole plant), chebulic myrobalan (fruit rind) ).
Menopause is one of those "health things" that is almost unavoidable. Except for rare instances, most women will deal with menopause at some time in their life. The natural downswing in the production of certain hormones as women's bodies focus energies away from reproduction is one of those things that can disrupt a woman's life. And while menopause is natural, it doesn't have to be miserable...
Supplement Facts
Recommended Use
Adults take 2 capsules twice daily with meals.