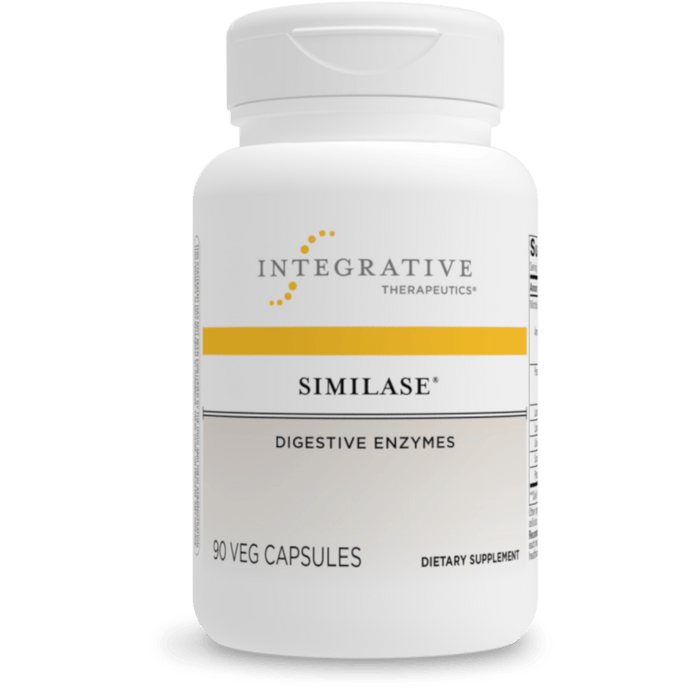 Integrative Therapeutics Similase - 90 Caps
Sale
Sale
Original price
$ 26.50
-
Original price
$ 26.50
If you suffer from gas' bloating' or occasional indigestion' you may not be getting enough enzymes in your diet. Enzymes are chemicals that break down the substances contained in foods. If you don't get enough enzymes in your diet' your body is not able to properly digest and process the important nutrients found in what you eat. Enzymes are naturally found in many raw fruits' vegetables' nuts' meats' and dairy products. The problem is that cooking destroys a significant percentage of the enzymes in these foods. Digestive problems may also occur due to food sensitivities or food allergies.
Please see the Supplement Facts tab for a full listing of the Ingredients in this product. In summary, it contains: Amylase USP (pH 6.8) 32'000 USP FCC (pH 4.8) 23'800 DU, Protease I' II' III' IV USP (pH 7.5) 30'000 USP FCC (pH 7.0) 48'750 PC FCC (pH 4.7) 82'000 HUT, Lipase I' II Assay Method, FIP (pH 7.0) 2'100 FIP, FCC III (pH 6.5) 970 LU, Lactase I' II Assay Method, FCC III (pH 4.5) 1'600 ALU, Phytase Phytic Acid (pH 6.0) 1.7 PU, Cellulase I' II FCC (pH 4.5) 350 CU, Sucrase (Invertase) FCC (pH 4.6) 300 INVU, Maltase (Malt Diastase) FCC (pH 4.6) 32'100 DP°.
Supplement Facts
Other Ingredients: Vegetable capsule (modified cellulose)' cellulose' magnesium stearate.

Contains no sugar' salt' yeast' wheat' soy' dairy products' artificial colors' flavors' preservatives or ingredients of animal origin.
Dosage:
Take 1 or 2 capsules at the beginning of each meal' or as recommended by your healthcare professional.