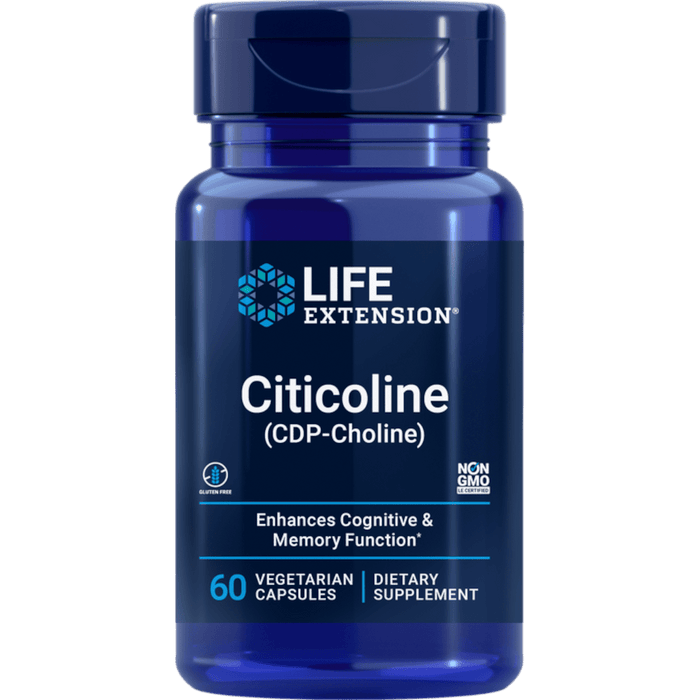 Life Extension Citicoline (CDP-Choline) 250 mg - 60 Vegetarian Capsules
Sale
Sale
Original price
$ 28.00
-
Original price
$ 28.00
Our Citicoline (CDP-Choline) capsules encourage the synthesis of acetylcholine—a neurotransmitter that is essential to healthy cognition, attention, memory function and more.
What Is Citicoline (CDP-Choline)?
Choline is a substance needed by the brain to produce acetylcholine, a major neurotransmitter that facilitates communication between neurons. Unfortunately, brain cells absorb less choline as we age—which makes choline supplementation a good idea.
Choline helps us produce a neurotransmitter that facilitates communication between neurons—a basic part of healthy brain function.
Citicoline (CDP-Choline) Benefits
Encourages the synthesis of neurotransmitters in the brain
Supports healthy cognition & attention
Supports overall memory function & mood
Choline is a substance needed by the brain to produce acetylcholine, a major brain/motor neuron neurotransmitter that facilitates the transmission of impulses between neurons. A substantial portion of the population consumes inadequate amounts of choline however, and dietary intake of the nutrient becomes increasingly important for brain health as we age.1,2
What is CDP-choline?
CDP-choline stands for cytidine-5'-diphosphate choline, also known as citicoline. This form of choline readily passes through the blood-brain barrier (BBB) directly into the brain tissue.3 CDP-choline encourages the synthesis of neurotransmitters, particularly acetylcholine, in the brain, which is believed to explain many of its beneficial effects.3
The science of CDP-choline
CDP-choline is also a neuroprotectant and a promoter of neuroplasticity, with a track record of supporting healthy cognition, memory and overall function in numerous clinical trials.
In addition to its clinically studied brain power benefits in older adults, low doses of citicoline have been shown to support a healthy mood.6 CDP-choline also supports phosphatidylcholine production, an important phospholipid for nerve growth, function, and cellular membrane repair.
Please see the Supplement Facts tab for a full listing of the Ingredients in this product. In summary, it contains: Citicoline (as citicoline monosodium salt).
Supplement Facts
Dosage and Use
Take one (1) capsule daily, or as recommended by a healthcare practitioner.

Warnings
KEEP OUT OF REACH OF CHILDREN
DO NOT EXCEED RECOMMENDED DOSE
Do not purchase if outer seal is broken or damaged.
When using nutritional supplements, please consult with your physician if you are undergoing treatment for a medical condition or if you are pregnant or lactating.