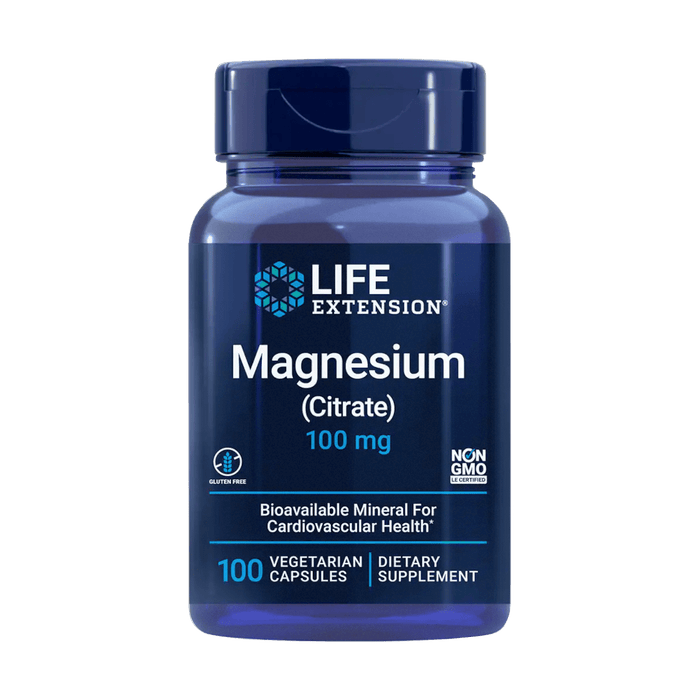 Life Extension Magnesium Citrate 100 mg - 100 Capsules
Sale
Sale
Original price
$ 12.00
-
Original price
$ 12.00
Magnesium is an important mineral for your health, since it's required for more than 300 biochemical reactions. But many Americans don't get enough magnesium in their diets. Our Magnesium (Citrate) supplement provides 100 mg in each vegetarian capsule.
Magnesium (Citrate) Benefits
Helps maintain normal muscle & nerve function
Promotes healthy cardiovascular function
Supports a healthy immune system
Helps maintain strong, healthy bones
Magnesium is required as a co-factor in hundreds of enzymatic processes within cells.1 It helps maintain normal muscle and nerve function, encourages healthy heart rhythm, promotes healthy cardiovascular function, supports a healthy immune system and supports strong bones.
Magnesium also helps maintain blood sugar and blood pressure levels already within normal range, and it's known to be involved in promoting energy metabolism and protein synthesis.2-4
For a healthy cardiovascular system
Magnesium is a major factor in helping relax the smooth muscles within the blood vessels, thereby maintaining healthy peripheral vascular resistance and promoting a healthy cardiovascular system.5,6 Magnesium also supports circulating levels of norepinephrine, serotonin signaling and blood vessel dilation.7-9
For healthy bones
Magnesium positively influences the bone mineral matrix and bone repair and rebuilding.10,11 Scientific literature documents the need for a wide range of minerals, including calcium and magnesium, that are vital to maintaining strong, healthy bones.
Additional magnesium benefits
Moreover, there is strong evidence that dietary magnesium intake and supplementation supports the metabolic profile.12,13 Magnesium has been shown to beneficially support insulin resistance, serum lipid profiles, a healthy inflammatory response, endothelial function, oxidative stress and platelet aggregability.14,15,16
The typical dose of elemental magnesium is 100 to 300 mg a day. Supplemental doses in the range of 300 mg daily have been shown to help maintain already healthy blood pressure. 
Please see the Supplement Facts tab for a full listing of the Ingredients in this product. In summary, it contains: Magnesium (as magnesium citrate), Other ingredients: vegetable cellulose (capsule), vegetable stearate.
Supplement Facts
Dosage and Use
Take one (1) capsule one to three times daily, or as recommended by a healthcare practitioner.
Can be taken all at once or in divided doses.
Caution
If taken in high doses, magnesium may have a laxative effect. If this occurs, divide dosing, reduce intake, or discontinue product.

Warnings
KEEP OUT OF REACH OF CHILDREN
DO NOT EXCEED RECOMMENDED DOSE
Do not purchase if outer seal is broken or damaged.
When using nutritional supplements, please consult with your physician if you are undergoing treatment for a medical condition or if you are pregnant or lactating.