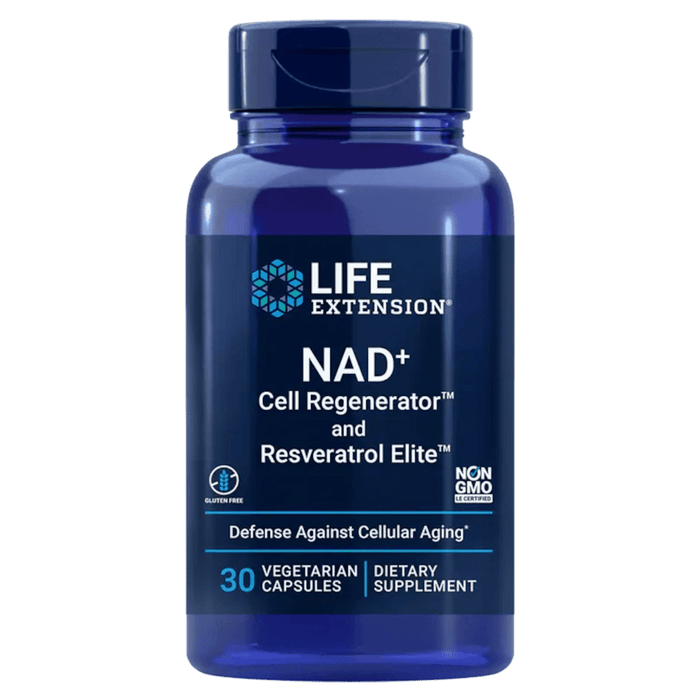 Life Extension NAD+ Cell Regenerator™ and Resveratrol Elite™ - 30 Vegetarian Capsules
Sale
Sale
Original price
$ 50.00
-
Original price
$ 50.00
NAD+ Cell Regenerator™ and Resveratrol Elite™ is our Best in Class formula for energy support. It combines 300 mg of NIAGEN® nicotinamide riboside with an ultra-bioavailable trans-resveratrol (as well as bioavailability-enhanced forms of the phytonutrients quercetin and fisetin) to fight general fatigue and promote longevity with every dose.  
NAD+ Cell Regenerator™ and Resveratrol Elite™ Benefits
Special delivery technology improves bioavailability of fisetin by 25x, resveratrol by 10x and quercetin by 50x*
Fights general fatigue by promoting youthful cellular energy production
Supports overall longevity by encouraging heart, mind & cell health
Contains quercetin & fisetin for complementary health benefits
NAD+ Cell Regenerator™ and Resveratrol Elite™ combines NIAGEN® nicotinamide riboside and ultra-bioavailable forms resveratrol with quercetin and fisetin to create an innovative nutritional supplement for longevity and youthful cellular energy production.
Resveratrol is a well-known longevity and anti-aging supplement.1 Our Resveratrol Elite™ formulas contains trans-resveratrol, the form associated with beneficial biological effects.2-5 Resveratrol also promotes healthy insulin sensitivity, supports a healthy inflammatory response and has been shown to promote healthy endothelial function for a healthy cardiovascular system.4,6,7
A more bioavailable resveratrol
We've combined resveratrol with galactomannan fibers from fenugreek seeds. This makes our Resveratrol Elite™ formulas up to 10 times more bioavailable. This means that the trans-resveratrol in our supplements reaches higher levels in your bloodstream and circulates longer than traditional, unformulated resveratrol.
Resveratrol and heart health
One way that resveratrol promotes heart health is by helping to shield the body from oxidative stress at the cellular level.8 By inhibiting oxidative stress in your cardiovascular system, resveratrol promotes endothelial health—an essential component of living a long, healthy life.9
Resveratrol and brain health
At the same time, resveratrol's ability to support cerebrovascular blood flow may also make it good for your brain: there is clinical evidence that resveratrol can help encourage youthful neurological function and with it, things like cognition. Interestingly, this same trial showed that resveratrol promoted healthy glucose metabolism—another essential aspect of healthy longevity.10
Fight general fatigue with NIAGEN®
Nicotinamide riboside increases your body's levels of NAD+, a coenzyme critical to healthy cellular function.11 In a randomized controlled trial published in 2017, older adults taking a daily dose of 250 mg of nicotinamide riboside had a 40% increase in NAD+ levels after just 30 days.2 Studies in preclinical models have shown that increasing NAD+ also encouraged healthy metabolic and cognitive function.3,4
Fisetin and quercetin
Fisetin and quercetin are phytonutrient compounds that augment trans-resveratrol's healthy effects, promote cardiovascular health, support healthy cellular function, fight oxidative stress, promote a healthy inflammatory response and more.9,10
Take the fight against aging to the cellular level with NAD+ Cell Regenerator™ and Resveratrol Elite™.
Please see the Supplement Facts tab for a full listing of the Ingredients in this product. In summary, it contains: NIAGEN® Nicotinamide Riboside Chloride, Resveratrol Elite™ Proprietary Blend: Providing 18% trans-resveratrol (10 mg) [from Japanese knotweed (root)], 35% galactomannans (19 mg) [from fenugreek (seed)l, Bio-Quercetin®phytosome (providing 5 mg quercetin from Japanese sophora concentrate (flower bud) phosphatidylcholine complex from sunflower (seed)], Bio-Fisetin Proprietary Blend: 18% fisetin (0.4 mg) [from wax tree extract (stem)], 35% galactomannans (0.77 mg) [from fenugreek (seed)].
Supplement Facts
Dosage and Use
Take one (1) capsule daily, with or without food, or as recommended by a healthcare practitioner.

Nicotinamide Riboside Chloride does not cause flushing.
Warnings
KEEP OUT OF REACH OF CHILDREN

DO NOT EXCEED RECOMMENDED DOSE

Do not purchase if outer seal is broken or damaged.

When using nutritional supplements, please consult with your physician if you are undergoing treatment for a medical condition or if you are pregnant or lactating.