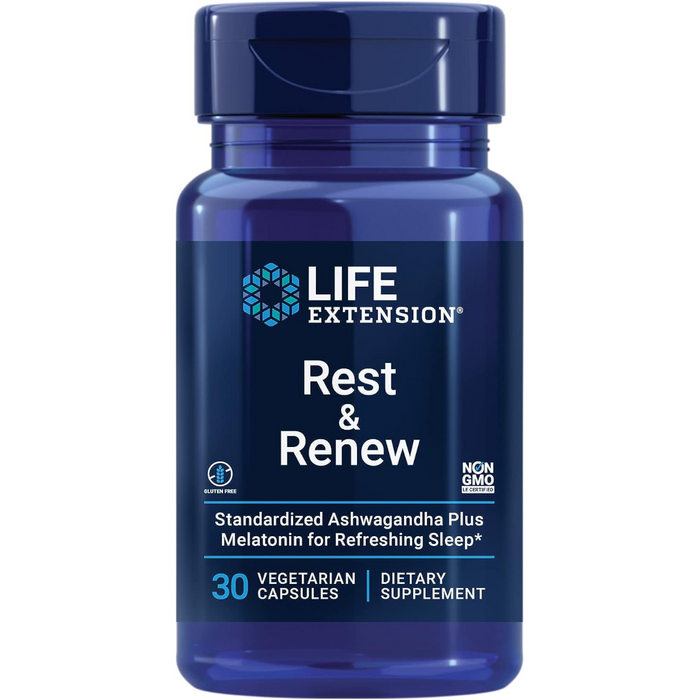 Life Extension Rest and Renew - 30 Vegetarian Capsules
Sale
Sale
Original price
$ 14.00
-
Original price
$ 14.00
The better your sleep, the better you feel. Our Rest & Renew formula combines a clinically-studied ashwagandha extract with melatonin to help you get the healthy, restful sleep you deserve.
Wake up refreshed and restored. Our formula contains an extract of the legendary relaxation herb ashwagandha that's been clinically studied for restorative sleep, plus a dual-melatonin blend that helps you fall asleep quickly and stay asleep all night long. Try it today, and be ready to take on tomorrow!
Want to sleep like a baby? This formula can help you fall asleep, stay asleep and wake up refreshed and restored.
Supports restorative sleep  with clinically studied Shoden® ashwagandha
Immediate & extended-release melatonin helps you fall asleep quickly and stay asleep all night
Get healthy, refreshing rest…and be ready for tomorrow!
For occasional sleeplessness.
An estimated 50 to 70 million American adults have difficulty sleeping.1 While the amount of sleep you get is important, the quality of your sleep also plays an important role in your health. Poor sleep quality can affect cognitive health, metabolic health and more.
Shoden® Ashwagandha
Ashwagandha (Withania somnifera) has been used in India for centuries. Shoden® ashwagandha has been shown to support several aspects of healthy sleep, such as how long it takes to fall asleep, how long you remain asleep, and the ultimate goal of restorative sleep.2 Our Rest & Renew formula includes the clinically studied dose of Shoden® ashwagandha (120 mg).
Immediate and extended-release melatonin
Our bodies naturally produce melatonin (sometimes called the sleep hormone) to keep our day/night rhythm in tune. But if you struggle with sleep, it's possible your body isn't producing enough.
Each capsule of Rest & Renew contains 1.5 mg of MicroActive® Melatonin. This novel blend of immediate- and extended-release melatonin helps you fall asleep quickly and stay asleep all night long.
What is restorative sleep?
Do you ever feel like you get enough sleep, yet you're still struggling to maintain focus and energy throughout your day? The number of hours you sleep may not tell the whole story. Your body goes through a restorative process during sleep, and if the various stages of sleep are interrupted, you may experience general fatigue as well as stress, lack of focus and energy.
Isn't It Time to Feel Refreshed Again?
Even if you do get to bed at a decent hour, it's not always easy to get the quality sleep you need for your body to restore itself for the coming day. It's time to feel refreshed. It's time for Rest & Renew.
Please see the Supplement Facts tab for a full listing of the Ingredients in this product. In summary, it contains: Shoden® ashwagandha extract (root and leaf) [std. to 35% withanolide glycosides], Melatonin [as MicroActive Melatonin.
Supplement Facts
Dosage and Use
Take one (1) capsule 30 to 60 minutes before bedtime, or as recommended by a healthcare practitioner.
Caution
Do not consume alcohol, drive or operate heavy machinery after taking this product.
Warnings
KEEP OUT OF REACH OF CHILDREN
DO NOT EXCEED RECOMMENDED DOSE
Do not purchase if outer seal is broken or damaged.
When using nutritional supplements, please consult with your physician if you are undergoing treatment for a medical condition or if you are pregnant or lactating.