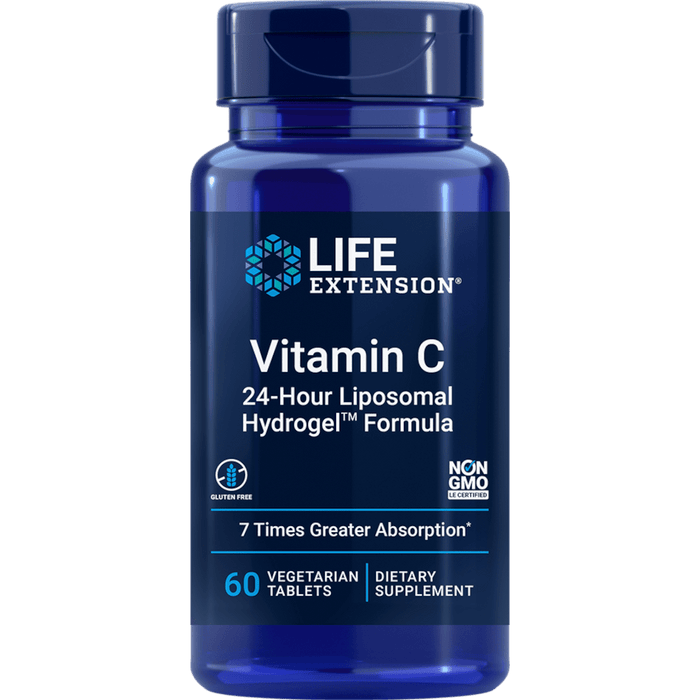 Life Extension Vitamin C 24-Hour Liposomal Hydrogel™ Formula - 60 Vegetarian Capsules
Sale
Sale
Original price
$ 29.00
-
Original price
$ 29.00
Vitamin C is good for you—but did you know that with most conventional formulas, at higher doses, the less you absorb? Our Vitamin C 24-hour Liposomal Hydrogel™ Formula absorbs much better than standard vitamin C, staying in your system up to 24 hours.
Vitamin C is one of the most popular vitamins for a reason: it supports immune health, fights back against oxidizing free radicals and even helps keep your skin healthy. But your body can only absorb so much at a time. We've created a liposomal vitamin C formula that uses a fenugreek hydrogel to protect vitamin C once ingested. The result: better absorption and vitamin C benefits that will last 24 hours a day!
Vitamin C 24-Hour Liposomal Hydrogel™ Formula is a highly-absorbable form of vitamin C that remains in your system longer, for maximum benefits.
Vitamin C 24-Hour Liposomal Hydrogel™ Formula Benefits
Up to 7x greater absorption than standard vitamin C
Vitamin C benefits that last 24 hours a day
Promotes immune & cellular health
We know that vitamin C is good for us. So, many people take high doses of this important nutrient to maximize its benefits. But there's a problem: there's only so much vitamin C that your body can absorb and use at one time. If you take a high-dose vitamin C supplement, some or much of it may be going to waste, literally: your body will simply flush out what it can't use right away.
To optimize vitamin C, protect it
Our Vitamin C 24-Hour Liposomal Hydrogel™ Formula gives your body more than 24 hours to make use of this essential nutrient. To accomplish this, we've combined 350 mg of vitamin C with an innovative liposomal delivery system: a lipid sphere made from sunflower oil that supports absorption. Then, this liposomal vitamin C is infused into a hydrogel made of galactomannan fibers from fenugreek seeds. The liposomal coating and galactomannan fibers allow vitamin C to be absorbed over a prolonged period.
24-hour health benefits
Because your body has time to absorb our liposomal vitamin C at a steady rate, your system always has vitamin C on hand—for up to 24 hours! This results in 7 times greater total plasma levels than a standard vitamin C supplement. This means your body will enjoy the benefits of vitamin C all day long.
Vitamin C and your health
Immune health Vitamin C has a well-deserved reputation for immune support: it helps encourage a healthy immune response, so you can have more days feeling your best.1-4
Cardiovascular health When we think about vitamin C, odds are we don't consider it for heart health—but maybe we should. Several clinical studies show that vitamin C helps promote healthy circulation, encouraging everything from healthy arterial blood flow to improved blood vessel dilation.5-7
Respiratory health Vitamin C also supports healthy lung function. In one clinical study, daily vitamin C intake encouraged breathing quality after exercise.8 In another, vitamin C helped maintain healthy breathing when experiencing an immune response to a respiratory challenge.9
Skin & cellular health Vitamin C can help scavenge free radicals, which can take their toll on the appearance and overall health of your skin.10 Daily vitamin C intake encouraged free radical scavenging in the skin—in fact, the benefits were dose-dependent…so the more vitamin C you absorb, the better!
Vitamin C has also been shown in pre-clinical studies to encourage the production of collagen: one of the primary building blocks of your skin, tendons, and more.11
As you can see, there's plenty of good reasons to take a daily vitamin C supplement. And if you're going to do so, take Vitamin C 24-Hour Liposomal Hydrogel™—the best way to maximize your vitamin C!



Please see the Supplement Facts tab for a full listing of the Ingredients in this product. In summary, it contains: Vitamin C [as calcium ascorbate from Lipo-Cmax™], Calcium [as calcium ascorbate from Lipo-Cmax™], Lipo-Cmax™ [providing calcium ascorbate, galactomannans from fenugreek (seed), sunflower lecithin.
Supplement Facts
Dosage and Use
Take one (1) tablet daily, or as recommended by a healthcare practitioner.
Warnings
KEEP OUT OF REACH OF CHILDREN
DO NOT EXCEED RECOMMENDED DOSE
Do not purchase if outer seal is broken or damaged.
When using nutritional supplements, please consult with your physician if you are undergoing treatment for a medical condition or if you are pregnant or lactating.