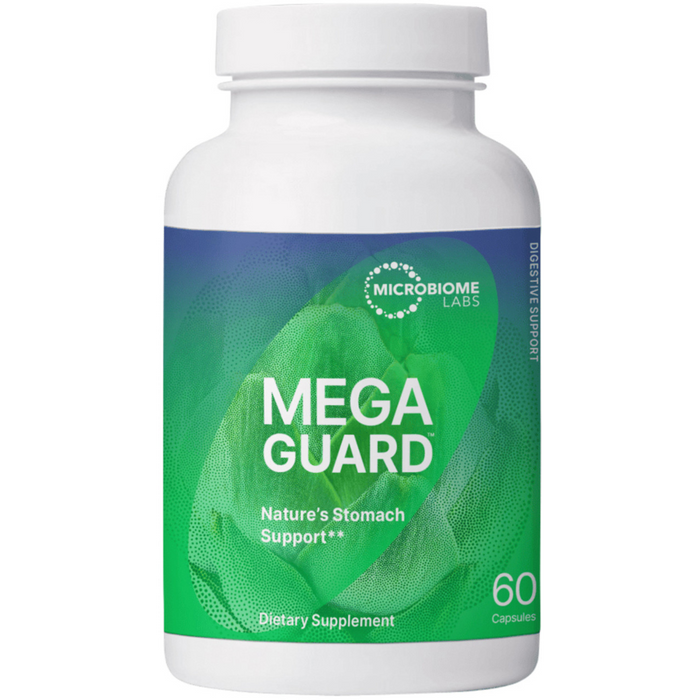 Microbiome Labs Mega Guard - 60 Capsules
Sale
Sale
Original price
$ 55.99
-
Original price
$ 55.99
MegaGuard™ is a novel digestive aid that combines licorice polyphenols, cleansing artichoke leaf extract, and soothing ginger to promote normal digestion, regulate stomach acid, maintain healthy H. pylori levels, and reduce occasional digestive discomforts such as gas and bloating. With the power of these herbs combined, MegaGuard™️ provides unique and comprehensive digestive support, bowel regularity, and gastric balance.
GUTGARD® LICORICE FLAVONOIDS
Licorice' or Glycyrrhiza glabra' is considered a powerful digestive aid according to both Ayurvedic and Traditional Chinese Medicine. The food industry makes use of glycyrrhizin found in licorice saponins as an emulsifier and sweetener; however large doses are linked with risky side effects such as high blood pressure and low potassium levels. Therefore most supplements contain deglycyrrhizinated licorice (DGL). Gutgard® licorice flavnoids differ greatly from DGL through its chemistry' composition' manufacturing processs and actions on the body - making it a safer option for consumers looking for gut support. Gutgard® is a specialized extract of licorice that contains an abundance of naturally-occurring flavonoids' in contrast to classical derivatives which lack significant amounts. With more than 50 known compounds present' it stands out from other sources as beneficial for digestive support and can be taken regularly at 150mg/day to assist with occasional indigestion' bloating and gas without the risk of undesirable effects due its low glycyrrhizin content.
ARTICHOKE LEAF EXTRACT
Artichoke (Cynara scolymus) leaf extract has a long history of being used as an effective digestive aid due to its bitter compounds' cynaropicrin in particular. In 2003' German researchers demonstrated that consuming 640mg/day led to marked improvement for individuals experiencing occasional bloating and fullness - often within just one week! Furthermore' ALE was found to support bile production and liver health while also maintaining balance among the blood lipids.
GINGER ROOT EXTRACT (20% Gingerols)
For centuries' Ginger (Zinziber officinalis) has been used as a digestif in Eastern culture. Now' research sheds light on why this ancient remedy is so effective: gingerols and shogaols - the active polyphenolic compounds present in good-quality ginger extract with 20-30% of these components - support gastric emptying and can temporarily relieve nausea or vomiting by weakly blocking receptors associated with those symptoms. An Italian study of 126 patients revealed that a combination of ginger and artichoke leaf extracts was highly effective in reducing the frequency of occasional digestive issues like nausea' bloating' early satiety and abdominal discomfort. In fact' this advantageous blend worked 17% better than taking just artichoke alone. MegaGuard™ contains an abundant amount (60mg)of potent ginger root extract for maximum strength compared to regular extracts which contain only 5%.
Please see the Supplement Facts tab for a full listing of the Ingredients in this product. In summary, it contains: Artichoke leaf extract (Cynara scolymus L), Deglycyrrhizinated licorice root extract (Glycyrrhiza glabra)GutGard), Ginger root extract (standardized to 20% gingerols).
Supplement Facts
Dosing Instructions
Ages 8+: Take one capsule with lunch and dinner, or as directed by your healthcare practitioner.