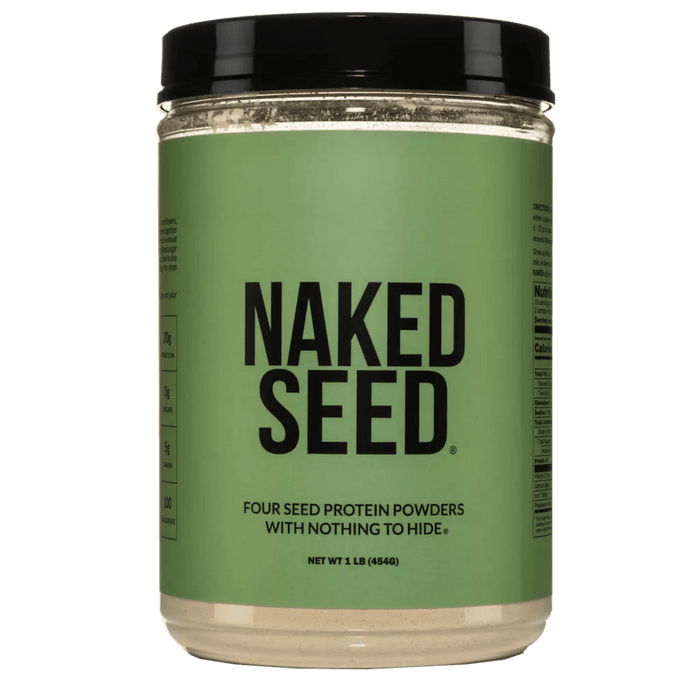 Naked Nutrition Naked Seed Protein Powder - 1 lb.
Sale
Sale
Original price
$ 35.00
-
Original price
$ 35.00
Naked Seed is derived from four nutritional powerhouses: the seeds of watermelon, sunflower, pumpkin, and chia plants. Finely milled and easy-to-digest, our seed-only protein powder has a superior amino acid profile that supports muscle growth and workout recovery on a plant-based diet. 
Antioxidant-rich seed protein powder can promote heart and bladder health, better immunity, cardiovascular health, and optimal blood sugar levels. 
BENEFITS
Health-Boosting Antioxidants
Seeds from chia, watermelon, pumpkin, and sunflower are all rich in antioxidants that fight free radicals within your body. Too many free radicals in your body can be harmful and they've been linked with a variety of diseases. Consuming plenty of antioxidants can keep your free radical levels under control and reduce the risk of illnesses.
Plant-Based Muscle Growth
Naked Seed has a superior amino acid profile because it combines plant proteins from four different sources. Amino acids, including branched-chain amino acids (BCAAs), play a key role in muscle growth and recovery after exercise. Naked seed is finely milled and easily digested, making it easier for your body to absorb the amino acids and recover better after a workout.
Easily Boost Protein Intake
Adequate protein intake is vital to boost metabolism, promote fat burning, and overall health. Each serving of Naked Seed contains 20 grams of protein and only 100 calories. Adding seed protein to your diet is an excellent way to boost protein intake on a plant-based diet.
Please see the Supplement Facts tab for a full listing of the Ingredients in this product. In summary, it contains: Organic Pumpkin Seed Protein, Sunflower Seed Protein, Watermelon Seed Protein, Organic Chia Seed Protein.
Supplement Facts
How To Use
When:

 

Add our seed protein to protein shakes, smoothie bowls and baking. Best used in the morning, before or after a workout, or throughout the day.
Blend:

 

Mix two scoops into 6-10oz of water, non-dairy milk, or your favorite beverage. Mix with fruits, vegetables, or superfoods for taste as Naked Seed is unflavored.
Pair With:

 

Add a scoop of Naked PB for added flavor and extra nutrition to maintain muscle mass and promote workout recovery.