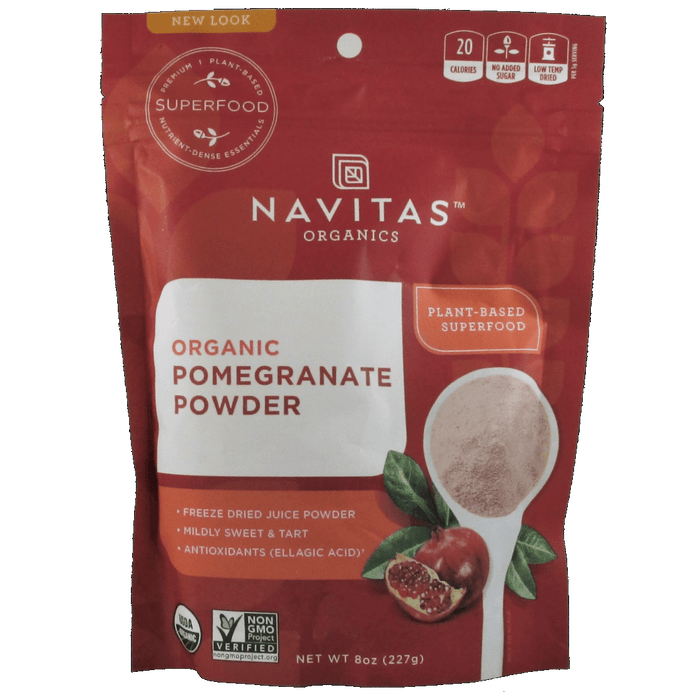 Navitas Nature Pomegranate Powder - 8.4 oz.
Sale
Sale
Original price
$ 22.00
-
Original price
$ 22.00
Pomegranate
The naturally sweet solution to satisfy cravings without the added sugar.
Our deliciously tart Pomegranate Powder is easy to incorporate into your diet for an antioxidant-rich boost of nutrition.
SUPER BENEFITS
Two words: delicious and antioxidants. Pomegranates are known for their perfectly sweet and tart flavor and antioxidants, free-radical fighters that work hard to keep our body and cells safe. 
WHY YOU'LL LOVE POMEGRANATE
Remember those fun dipping sugar sticks from your childhood? Navitas Organics Pomegranate Powder is the grown-up version. And, if we can say so ourselves, we'd say it beats the original. Navitas Organics Pomegranate Powder is silky smooth and naturally sweet without any added sugar. No wonder "Pomegranate" translates to "paradise."
Supplement Facts

Other Ingredients: Certified organic pomegranate powder (punica granatum).
Product of India.
HOW TO USE
Navitas Organics Pomegranate Powder is incredibly easy to incorporate into your daily diet. Try a spoonful or two stirred into fruit juices, smoothies and fruit-based teas for a nutritious and flavorful boost. 

Enjoy its sweet and tangy taste mixed into desserts (try homemade raw chocolates) and added to energy bar recipes, salad dressings and marinades. Pomegranate Powder is also great for making popsicles—or as a base for natural food coloring.
With a slight natural sweetness, and a tangy and sour taste, Pomegranate Powder is another way to easily enjoy this antioxidant powerhouse every day.