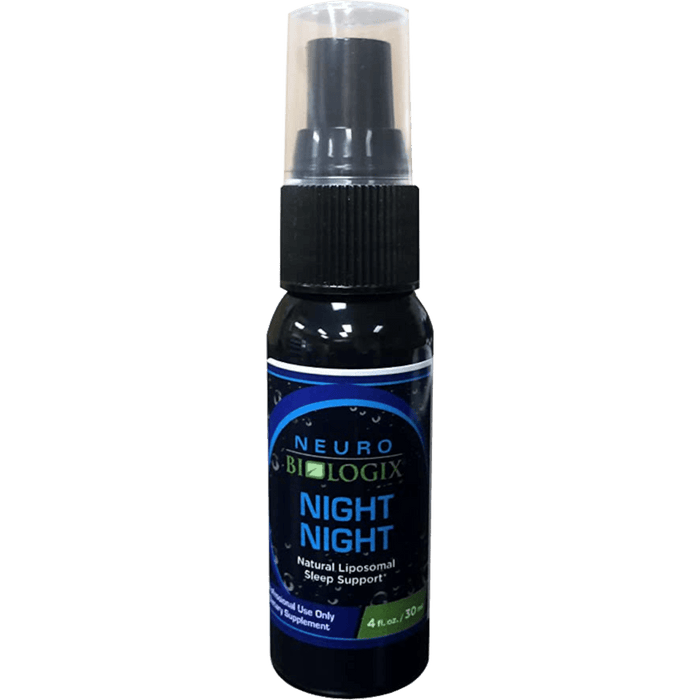 NeuroBiologix Night Night (Liposomal Spray)- 4 fl oz. 30 servings
Sale
Sale
Original price
$ 40.25
-
Original price
$ 40.25
Night Night by Neurobiologix is an amazing spray for all ages to support the sleep cycle. This great-tasting spray blend includes Melatonin, GABA, and a bit of Glutathione to assist in the liposomal delivery system which makes this sleep spray one of a kind!

Melatonin:
Liposomal Melatonin is designed to help support healthy circadian rhythms, particularly in individuals with unbalanced sleep/wake cycles*

Liposomal Melatonin is a non-habit forming supplement that goes beyond simply taking melatonin due to the unique combination of GABA and Glutathione*

Liposomal Melatonin helps you feel energized and rejuvenated in the morning without waking sluggish or groggy*

GABA: Is the main inhibitory neurotransmitter in the central nervous system, and dysfunction of GABAergic mechanisms or genetic mutations of GAD1 and GAD2 are associated with different neurological conditions and possible sleep issues. Liposomes are lipid vesicles that are able to encapsulate chemical compounds and are used for ultimate GABA delivery.*

Last but not least is the addition of Glutathione. This is an essential part of the liposomal delivery system. Though it is not enough to detox the body the addition will give the liposome what it needs to support cell delivery.*


Liposomes are designed not only to protect the nutritional supplement from degrading and absorbing in the harsh environment of the gut terrain but also to deliver the nutrients in a targeted manner to specific tissues and areas of the body.*
Please see the Supplement Facts tab for a full listing of the Ingredients in this product. In summary, it contains: Proprietary Blend: GABA, Melatonin, Glutathione.
Supplement Facts
Directions: As a dietary supplement, take 1ml (6 pumps) daily before bedtime, or as directed by your healthcare professional. Use within 45 days of opening.

Shake before using. If unopened, store in a cool, dry place. Refrigerate after opening.

Pregnant or lactating women and persons under 18 years of age should consult their qualified healthcare provider prior to use.